Why Befikre Ranveer should not be silent on sexist ad
The ad featured actor Ranveer Singh hoisting a girl on his shoulders
Actor Siddharth criticised the company's ad; called it a 'new low for women's rights'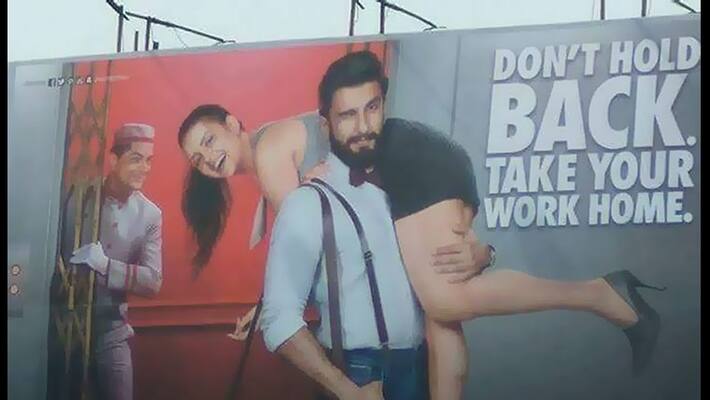 Jack and Jones, a Denmark –based apparel company has now issued an apology regarding an advertisement that featured Bollywood actor Ranveer Singh. Following it creating an uproar in the Twitterverse and having even celebrities like Tamil actor Siddharth criticising it, the ad has been removed. The ad was also reported to the Advertising Standards Council of India (ASCI), the advertising industry watchdog.
The company issued an apology on Twitter stating: "Regret that one of our billboards has caused distress, we did not intend to offend anyone. #NOTHOLDINGBACK and withdrawing it immediately."
The advertisement features a winking Ranveer wearing a sharp office shirt from the company, hoisting a mini-skirted office colleague (probably) on his shoulders. While this was perfectly fine to some, it was the tagline that caused the uproar. It said, "Don't hold back. Take your work home"
So this begs us to question, what exactly is the advertisement trying to convey. Is it trying to convey what a cool dude Ranveer is for being able to score an arm candy with his dressing? Or is that dressing in a Jack and Jones shirt gives you the licence to pick girls and throw them across your shoulder and carry them home?
Many women conveyed that the ad came across as if conveying  that women are merely objects of a man's desire and have nothing much to do at work other than wait for a man to them sling them across their shoulders.
There are also those who hold the opinion that creative liberties are allowed and instead of concentrating on mundane things let's all just focus on the larger picture or better still even the matters faced by women and yet left unresolved. By attacking the company people got the billboard taken down. Point made. By asking Ranveer to apologise, what are they getting at?
Women in the Indian workspace has been a subject of intense debate. While on one hand there will be reports of women breaking glass ceilings and rising up in the company's ranks, on the other hand, there are equal number , if not more, calling out women for being opportunists. There have been men accusing women of using their feminine charms to work their way up the ladder, of being allowed to go home early, of being allowed maternity leaves and the list goes on and on. Women have also been demanding equality in the workspace, be it promotion or pay.
How women are depicted in the advertising world is also a story for a different day. However, we have plenty of examples how women are the ones who are repeatedly told to lose weight, become fair, maybe even grow tall to be marriageable and to be considered attractive to society. There are also these sets of ads which treat women like a piece of meat, using their anatomy to favour the male gaze. And a third set as well which working to tell women that they very well be as they please.
So what should Ranveer do, you ask? Apologise? In not many words so to say. But, yes, an acknowledegment of the ad and its implications should well be in order. The Bollywood actor admitted that he had been a Cassanova prior to meeting current girlfriend Deepika Padukone who has tamed his wandering ways and made him a better person. For someone who respects his lady love so much. Featuring in the ad, signing on the dotted line for the same should have raised questions. Apparently it didn't.  Since he was the face of the ad, it does require a certain commitment on his part to explain his stand on the matter – to his fans and to the offended women. His silence on the same can be understood differently.  
Last Updated Mar 31, 2018, 6:44 PM IST