Watch: Raj Kundra turns stand-up comedian, calls himself 'sasta Kanye West', 'Shilpa ka pati'
During the show, Raj Kundra took a dig at himself by calling himself 'mask man', 'sasta Kanye West', 'Shilpa ka pati', and more.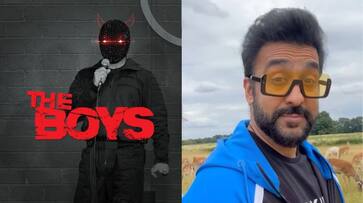 Actress Shilpa Shetty's husband Raj Kundra has been making headlines but, this time not for his mask look or any porn-related controversy. The businessman has turned into a stand-up comedian and performed his stint in front of the audience. During the show, the 48-year-old took a dig at himself by calling himself 'sasta Kanye West', 'Shilpa ka pati' and more. 
The bits from the show are circulating on social media and fans seem to love his performance. Raj is seen in the usual avatar of his face covered with a black mask and he chose an all-black look. He started the show by giving the audience a disclaimer that he would be cracking sexual jokes. He said, "If someone has an issue with sexual jokes, please leave the room for 10 minutes." When no one in the audience walked out, he referred to the audience as ''tharki.''
He then discussed his path, stating that he began working as a taxi driver at the age of 18. At the age of 21, he established a Pashmina shawl empire. At the end of the video, he says, ''Mera Kaam hamesha se kapde chadhane ka tha, utarne ka nahi,'' after which the title 'The Boyz' comes on the screen, with Imagine Dragons' song of the same name playing in the backdrop. 
The video
Raj Kundra pornography case
Raj was detained in July 2021 on suspicion of charges of producing pornographic content. He was charged under relevant parts of the Indian Penal Code (IPC), the Information Technology Act of 2000, and the Prevention of Indecent Representation of Women Act. Later, in September 2021, he was granted bail by a metropolitan magistrate's court.
 
Last Updated Oct 6, 2023, 4:38 PM IST