Photos: Rashmika Mandanna, Vijay Deverakonda, Ram Charan and more south actors welcome New Year in style
South celebrities like Vijay Deverakonda, Ram Charan, Mahesh Babu, Kamal Haasan, and others uploaded photos of how they celebrated the New Year as they shared their best wishes.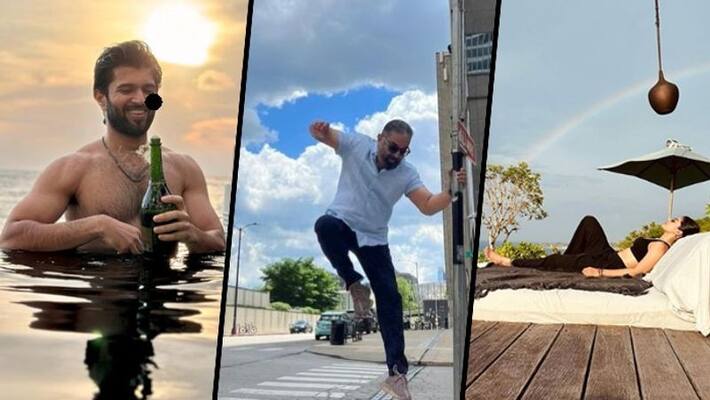 The year 2023 has arrived. The entire world rejoiced and celebrated the new year. South stars have gone all out to ring in the New Year. While many people travelled to places like Paris and New York to celebrate, others held a party at home.
Celebrities didn't skip out on uploading photos of their New Year's Eve celebrations and wishing their followers. Celebrities such as Vijay Deverakonda, Ram Charan, Mahesh Babu, Kamal Haasan, Prithviraj Sukumaran, and many others flocked to social media to post photos of how they celebrated the New Year while extending their best wishes to fans.
Mahesh Babu celebrated the New Year 2023 in Switzerland with his family. He came with his wife Namrata, children Sitara, Gautam, and Shilpa Shirodkar, and friends to celebrate. Extending wishes to fans, Mahesh Babu posted a pic of posing at a Christmas tree with his family and friends and wrote, "Happy New Year 2023. Sending endless love and happiness."
Also Read: When Vidya Balan faced casting couch by a Tamil director; here's what happened NEXT
Ram Charan spent New Year's Eve with his family and friends. Sharwanand, a close friend and actor, tweeted a photo of Charan and Chiranjeevi smiling together. He wrote, "Happiest Day Happy New Year guys. Love and Light to all of us."
Kamal Haasan posted a great photo of himself, proving that age is only a number for him. He looks gorgeous in casual wear and shared a witty remark to wish everyone a Happy New Year. He wrote, "defying certain constants is the precursor to inventions like flying !!TAKE OFF , It will be a #happynewyear !!"

Vijay Deverakonda just set the world on fire with his incredibly sexy pool photo. The star posted a shirtless photo of himself drinking champagne in a pool. His bright and lively smile will undoubtedly make hearts flutter. 
Also Read: 'There is a right time for everything': Nayanthara on working in Bollywood
Despite a difficult year, Vijay cheerfully celebrated 2022 and welcomed 2023. He wrote, "A year where we all had moments, when we laughed hard, cried quietly, chased goals, won some, lost some :)We need to celebrate everything :) cuz that is life.Happy new year my loves. Have a great new year!"
Rashmika Mandanna's 2023 view is spectacular. She posted a pic of herself clad in all-black attire, chilling at a pool bench with a beautiful rainbow view in the sky. Sharing the pic, she wrote, "Hello 2023".
Prithviraj Sukumaran celebrated the New Year with his wife while on vacation. The actor shared a photo with his wife Supriya and wished everyone a Happy New Year. The pair looks stunning and is achieving huge relationship objectives. "Thank you 2022! For the success, the happiness and the lessons! Wish you all a fantastic 2023!"
Last Updated Jan 1, 2023, 3:23 PM IST