Pathaan: SRK on fighting Bosco for dance moves, said, 'Wanted him to do a step which everyone can do'
While ardent SRK fans are counting the days left to witness Shah Rukh Khan in action on screens, the much-awaited actioner-thriller entertainer film Pathaan. In a new video released by Yash Raj Films, Shah Rukh Khan opened up on fighting with Bosco for giving him less dance steps for Jhoome Jo Pathaan in the film.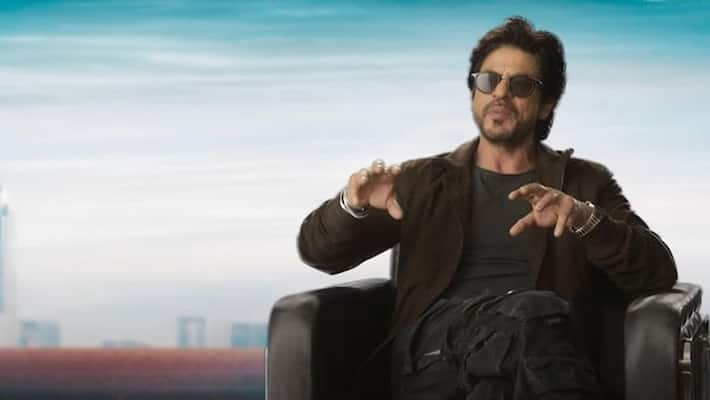 Currently, the excitement level of fans and audiences is at an all-time high. King Khan is making his comeback to celluloid screens after four years. Undoubtedly, Pathaan has piqued the curiosity of audiences and fans to a maximum extent. From SRK and Deepika giving their fans a dose of sizzling chemistry on-screen to Shah Rukh and Deepika's smoking hot and scintillating looks in the film, everything about the film looks like it is more so becoming a well-deserved wait.
Fans also saw glimpses of action sequences and gritty storyline in both the hit songs, Besharam Rang and Jhoome Jo Pathaan, from the film. It has made us believe that this film will be a global blockbuster that will mark the smashing comeback of King Khan and Bollywood queen Deepika to the screens after a few dud films. Pathaan has become one of the most eagerly-awaited Hindi films to release worldwide after a long, long time. Pathaan is touted as one of the biggest actioner entertainer that audiences will see in theatres. The visually spectacular film produced by Aditya Chopra banner YRF gives a dose of action extravaganza.
ALSO READ: Siddharth Anand on directing Shah Rukh Khan in Pathaan, says, 'Directing SRK is a greater responsibility'
Producer Aditya Chopra and director Siddharth Anand have not left any stone unturned to ensure that Pathaan is the grandest theatrical experience for audiences globally by filming never seen before action sequences that will blow our minds. 
In a new video released by Yash Raj Films, the King Khan of Bollywood, Shah Rukh Khan, opens up on his first reaction to the Jhoome Jo Pathaan. He also shared an amusing memory of fighting with choreographer Bosco for giving him fewer dance steps and create a hook step that all can do easily.
Shah Rukh Khan said, "When I heard Jhoome Jo Pathaan in the car, Sid made me hear the song outside the studio in my car on the speakers. As soon as what is now fashionably called the drop comes, you feel like dancing."
Shedding light on how he had to fight with noted dance choreographer Bosco for giving him fewer dance steps, SRK adds, "I think Bosco was trying to make me do a lot of dancing and all. I had to fight with Bosco so that, he does not make me do it. I just wanted him to do a step which all can do easily. It is that kind of a song. It is dancy, but it should be like Chhaiyya Chhaiyya. It should be easy to dance."
Pathaan is part of Aditya Chopra created ambitious spy universe and has the biggest superstars of the country Shah Rukh Khan, Deepika Padukone, and John Abraham in lead roles. All the assets of the film that YRF has released so far have turned out to be super-hits right from the teaser, the two songs - Besharam Rang and Jhoome Jo Pathaan - and the recently dropped trailer that has caused an internet meltdown!.
ALSO READ: Pathaan becomes the first Hindi film shot at the frozen Lake Baikal in Siberia - READ
Last Updated Jan 18, 2023, 2:49 PM IST