Meera Jasmine makes comeback: Telugu movie 'Gudumba Shankar' re-released after 19 years
A famous Telugu movie, 'Gudumba Shankar, was re-released in theatres after 19 years. The movie stars Pavan Kalyan and Meera Jasmine in the lead roles. Meera Jasmine is making her comeback to cinema after a long break.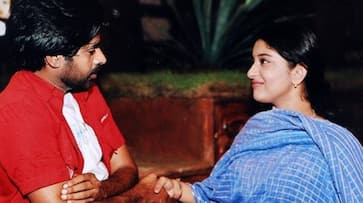 Kochi: Meera Jasmine is a star who was once popular in South Indian Movies. Now, the actress is all set to make a comeback after a long break. Meera was popular star in Telugu cinema during her acting days . Now, a telugu 'Gudumba Shankar'  has been re-released in theatres. The movie is getting great support and love for Meera. The movie starrs Pavan Kalyan in lead role.
The movie named ' Gudumba Shankar' was scripted by Pawan Kalyan himself and was a huge hit at that time. 'Pawan Kalyan' who is known as Power Star is getting a huge welcome in theatres. Telugu fans is celebrating the comeback of their favourite heroine Meera Jasmine
Meera Jasmine also posted a special poster on her social media account regarding the re-release of 'Gudumba Shankar'. Meera's post shared the location pictures of 'Gudumba Shankar'. Meera Jasmine's post said that precious memories are kept in the heart. Meera says in the post that Pawan Kalyan's kindness, empathy, compassion and views have always helped her in life. 
At the same time, Meera Jasmine is also preparing to make a comeback in Malayalam. Meera is coming back with Queen Elizabeth directed by M. Padmakumar and Johnny Anthony. The lyrical video song of Meera's new movie was released on August 29. The song features Narain and Meera Jasmine.The song 'Pookale Vanile..' is sung by Harishankar , penned by Shibu Chakraborty and composed by Ranjin Raj.
Ramesh Pisharody, Jude Anthony Joseph, VK Prakash, Shyamaprasad, Shweta Menon, Mallika Sukumaran, Manju Patros, Shruti, Neena Kurup, Sania Babu, Arya, Vineeth Viswam, Ranjith Kangol, Chitra Nair, are also in the lead roles. The screenplay is by Arjun Sathyan.
Cinematography - Jithu Damodar. Editing Akhilesh Mohan, Art Direction - Bava. Chief Associate Director – Ullas. Production Executive - BG Kandancheri. Production Controller- Shihab Vennala The production of this film, produced by Ranjith Manambarakkat, Sriram Manambarakkat and M. Padmakumar under the banner of Bluemount Productions, is nearing completion. P R O- Vazhur Jose
Last Updated Sep 8, 2023, 10:48 AM IST