Mathew Perry's family has reacted to his untimely death; Here's what they said
Mathew Perry aka Chandler died aged 54 at his Los Angeles home due to alleged drowning. His family has reacted to his death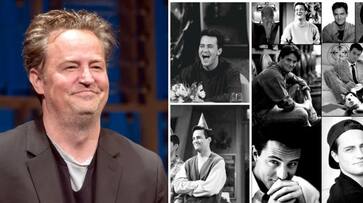 The family of the late actor, Matthew Perry, has expressed their profound sorrow and grief following his untimely death at the age of 54. In an exclusive statement to PEOPLE, they shared their heartbreak over the tragic loss of their beloved son and brother. Matthew was not only cherished by his family but also brought immense joy to the world through his roles as an actor and his presence as a friend.
The family expressed their gratitude for the overwhelming outpouring of love and support from the public. This outpouring of affection underscored the significant impact that Matthew had on the lives of many.
Matthew Perry was discovered lifeless at a residence in the Los Angeles area on a Saturday. TMZ reported that he was found in a jacuzzi at the property, leading to a call to first responders due to cardiac arrest. There were no drugs found at the scene, and no foul play was reported. While the Los Angeles Police Department responded to a call regarding the death of a male in his 50s at Matthew's address, they did not confirm the deceased's identity at that time.
Warner Bros. TV, the production company behind the iconic show "Friends", also released a statement expressing their devastation at the loss of their dear friend. They celebrated his incredible acting talents and noted his indelible place in the Warner Bros. Television Group family. Matthew's comedic genius had a global impact, and his legacy would continue to live on in the hearts of countless fans. The studio sent their love and condolences to his family, loved ones, and devoted fans.
Matthew Perry's upbringing was marked by the presence of his father, John Bennett Perry, his mother, Suzanne Morrison, and his stepfather, Dateline journalist Keith Morrison. Although John and Suzanne welcomed Matthew in 1969, their marriage ended less than a year later. Both of them remarried and had more children with their respective partners, with Suzanne marrying Keith in 1981 and John marrying Debbie in the same year.
Matthew, who had five siblings from his parents' subsequent marriages, spent his formative years in Ottawa, Canada, with his mother. Later, he relocated to California to live with his father during his teenage years. He followed in his father's acting footsteps, and the two shared the screen on multiple occasions, including when John Perry appeared on Matthew's immensely popular show, "Friends," in 1998.
ALSO READ: Koffee With Karan 8: Karan Johar reacts to Deepika Padukone, Ranveer Singh getting trolled
Throughout Matthew's lengthy battle with addiction, his parents stood by his side. In 2018, when he was hospitalized after his colon burst due to years of opioid use, they rushed to the hospital to support their son. Matthew recalled the emotional moment during an interview with Diane Sawyer on ABC News in October 2022, where he said, "They were both standing at the edge of my bed. I was like, 'Whoa, I must be really sick for this to be happening.'"
Last Updated Oct 30, 2023, 9:27 AM IST