Mathew Perry once confessed to having crush on Jennifer Aniston? Here's what we know
Matthew Perry, aka Chandler Bing from "Friends," passed away at 54. He once confessed his crush on co-star Jennifer Aniston. His co-stars paid a heartfelt tribute, describing their deep bond as a family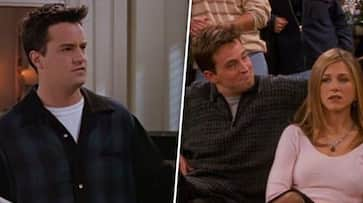 As the entertainment world is reeling from the loss of a Matthew Perry, we reflect at an old interview of where he speaks of the time he had a huge crush on Jennifer Aniston. In the past interview, Perry had opened up about his profound crush on Jennifer Aniston, his co-star who portrayed Rachel Green on the hit TV show. Perry revealed that his infatuation with Aniston began even before the show's production in 1994.
Perry reminisced, "The time I realized I had a crush on Jennifer Aniston was way before the show started. It was like two years earlier when I met her, and how could you not have a crush on her." He humorously added, "There was such severe indifference from her that I ended my crush, I had to. So, I think I ended it in time. But I thank her in the book for allowing me to look at her face for like two extra seconds than normal people would."
He confessed, "I never said it, and I hid it, you know, the crush. But, then she married Brad Pitt, and I was like, 'I don't think I have a chance here'."
In the wake of Matthew Perry's untimely passing, his fellow "Friends" cast members—Jennifer Aniston, Courteney Cox, Lisa Kudrow, Matt LeBlanc, and David Schwimmer—have issued a heartfelt tribute to the late actor. They expressed their profound grief and sorrow over the loss in a joint statement, highlighting their close bond as a "family."
ALSO READ: Virat Kohli applauds Anushka Sharma's zeal in balancing movie and motherhood; Here's what he said
The statement reads, "We are all so utterly devastated by the loss of Matthew. We were more than just cast mates. We are a family." The cast members also emphasized that they need time to process this devastating loss.
Last Updated Oct 31, 2023, 10:58 AM IST