Virat Kohli applauds Anushka Sharma's zeal in balancing movie and motherhood; Here's what he said
Virat Kohli praises Anushka Sharma's strength in balancing motherhood and career. He learns from her to stand by the truth. Their evolving relationship is marked by personal growth and mutual support. Kohli is currently focused on the ODI World Cup with the Indian cricket team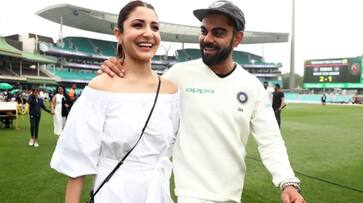 Virat Kohli and Anushka Sharma have enchanted the world with their enchanting love story, dreamy destination wedding, public displays of affection, and unwavering support for each other. Their journey together has now extended to parenthood with the arrival of their daughter, Vamika, in 2021. Recently, Virat Kohli expressed his deep admiration for the way Anushka has masterfully balanced her career and motherhood, while also sharing valuable lessons he has learned from his wife.
During an interview with Wrogn, Virat Kohli offered insights into the evolution of his relationship with Anushka Sharma. He reflected on how they initially met as two distinct individuals and how their journey together has naturally evolved to a point where they are both growing as people. Kohli noted, "The personalities and the identities are subsiding very quickly, and that is an amazing process." He described this evolution as a blessing and emphasized the continuous effort they both put into self-improvement.
Virat went on to express his amazement and astonishment at Anushka's journey into motherhood with the birth of their daughter, Vamika. He acknowledged the strength and resilience it takes to become a mother, particularly in the context of Anushka's simultaneous career commitments. He remarked, "Just the way she's handled everything; she's shot a whole film in between." Virat highlighted that witnessing your life partner become a mother is when one truly comprehends the strength and fortitude of a woman.
ALSO READ: Kartik Aaryan debunks viral video showing him endorsing Congress candidate for Madhya Pradesh elections; Read
In Virat Kohli's own words, he shared the valuable lessons he has learned from Anushka Sharma. He spoke about how she has taught him to stand by the truth and hold his ground, even when no one else may be willing to believe or listen. Anushka's advice, as conveyed by Virat, is to have faith that if you stand by the truth, the path will naturally carve itself out, and things will always be clear and distinct.
Virat attributed much of this valuable learning to Anushka's upbringing, particularly her father's military background. He revealed that his conversations with Anushka's father today still echo these principles, emphasizing the importance of integrity and standing by what one believes in.
Currently, Virat Kohli is deeply immersed in the ODI World Cup as a crucial member of the Indian cricket team, where he is passionately striving to bring the coveted trophy home.
Last Updated Oct 31, 2023, 9:32 AM IST