Kareena Kapoor on Aishwarya Rai being cast by Sanjay Leela Bhansali as 'Paro'; Here's what she had said
Kareena Kapoor expressed hurt after being replaced by Aishwarya Rai in "Devdas." Sanjay Leela Bhansali clarified that he never confirmed her casting, leading to a publicized conflict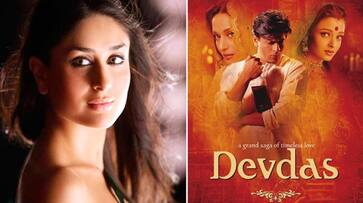 Movie industry and specially Bollywood is famous for their very public spats sometimes. One such instance that made headlines was the conflict between actress Kareena Kapoor and director Sanjay Leela Bhansali over the casting of the 2002 film "Devdas," which starred Shah Rukh Khan and Aishwarya Rai. The incident revolved around Kareena Kapoor's initial involvement in the project as the character Paro and her subsequent replacement by Aishwarya Rai.
Kareena Kapoor expressed her grievances in a 2002 interview with Filmfare, where she revealed her hurt feelings about being replaced in "Devdas." She explained that she had gone through a screen test for the film, had received a signing amount, and was under the impression that she would play the role of Paro. However, she was taken aback when Sanjay Leela Bhansali replaced her despite the earlier commitments.
Kareena Kapoor's reaction to this incident was strong, as she mentioned in the interview that she would never work with Sanjay Leela Bhansali again. She felt that his actions were wrong and hurtful, especially since it occurred early in her career. She went on to explain that she would hold onto this stance, even if she faced a lack of work opportunities in the future.
"Devdas," based on the 1917 novel by Sarat Chandra Chattopadhyay, tells the story of Devdas Mukherjee, a wealthy man who returns from London to marry his childhood friend, Parvati. However, the film's plot is marred by the rejection of their marriage by Devdas's family, leading him into a life of alcoholism.
ALSO READ: Koffee with Karan Season 8: Ranveer Singh opens up on 3 consecutive flops and how dealt with it
In response to Kareena Kapoor's allegations, Sanjay Leela Bhansali clarified his position. He explained that he had never provided any confirmation to Kareena regarding her role in "Devdas." Bhansali mentioned that Kareena had expressed her interest in working with him, and they conducted a photo shoot to assess her suitability for the role. He was open about not making any cast-in-stone decisions at that time. After reviewing the photographs, Bhansali decided that Aishwarya Rai was the perfect fit for the character Paro due to her aristocratic appearance. According to Bhansali, Kareena was initially agreeable with this decision, but she later publicly criticized him for allegedly reneging on his commitments.
Last Updated Oct 26, 2023, 9:57 AM IST