Kangana Ranaut slams B-town couple for spying on her, says, 'ghar mein ghus ke maaroongi'
In her earlier Instagram story, Kangana claimed that a renowned B-town couple is spying on her. Now she has warned them to stop doing so. In her Instagram story, she warned them by adding, 'ghar mein ghus ke maaroongi'.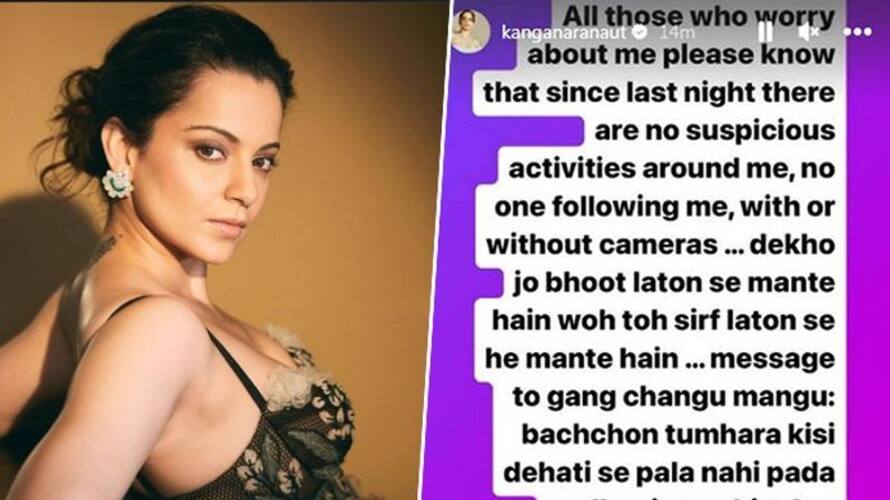 After making claims about how a couple from the movie industry is spying on her, actor Kangana Ranaut on Monday once again took to her Instagram story to clear the air about her allegations. She said no further suspicious activities are happening presently and warned her attackers while she was at it.
Always known for being fearless and bold, Kangana Ranaut took to her Instagram story. Without naming the said bollywood couple, Kangana took potshots at them. She indirectly ended up giving a severe and subtle warning in her brutal way on social media to the newly married couple who recently became parents.
ALSO READ: Priyanka-Nick Jonas to Katrina-Vicky Kaushal, now Sidharth, Kiara Advani, couples who got hitched in Rajasthan
Kangana started off by mentioning that for people who care for her and worry about her, no doubt invoking or suspicious incidents have happened with her recently since no one is following her. Kangana shared, "All those who worry about me, please know that since then, there are no suspicious activities around me, no one following me, with or without cameras."
Kangana continued people who understand only by extreme measures or actions taken against them don't understand by words. Also warning the said couple as Changu Mangu, Kangana said that they have not faced any dehati (villager) and told them to get better and stop the bullshit. Kangana said, "Dekho jo bhoot laaton se maante hai wo to sirf laaton se hi maante hai. Message to changu mangu: Bachchon tumhara kisi dehati se paala nahi pada, sudhar jao nahi toh…Ghar me ghus ke maaroongi."
Kangana elucidated, "Aur jinko lagta hai ki main paagal hoon, tumko ye to pata hai ki main pagal hoon, lekin ye pata nahi hai ki kitni badi wali hoon (Some people just need a good hiding. I also have a message for people who are behind this. And those who consider me crazy. I will enter your houses and beat you up, and you can think about me as crazy. You do not know how mad I can actually get)."
ALSO READ: Three essential tips to keep yourself healthy daily if you miss out on gymming
In her earlier post, Ranaut alleged that a couple from the movie industry, who recently became parents, have been spying on her. Although she did not name names, Kangana did tag the husband as a Casanova. Kangana added that he is forcing his wife to be a producer and back women-centric films like her.
Last Updated Feb 6, 2023, 3:24 PM IST