Israeli-Palestine conflict: Gal Gadot gets emotional says, 'My Heart Is Aching'
Israeli actress Gal Gadot, best known for playing Wonder Woman, voiced her grief after Israel came under surprise attack. The actress took to Instagram and shared that she is heartbroken.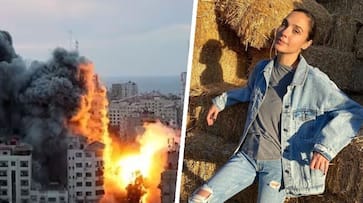 Israeli actress Gal Gadot, best known as the actress who plays the role of Wonder Woman, has reacted after Palestinian Islamist group Hamas launched an attack on Israel. The actress took to Instagram and shared that she is heartbroken by the recent events. She added that she prays for everyone in pain.
Everything Everywhere All At Once star Jamie Lee Curtis also expressed her grief over the turn of events. Sharing a picture was the war, Jamie wrote, "TERROR FROM THE SKIES @samarabuelouf @nytimes."
"At least 250 Israeli have been murdered and dozens of women children and elders held as hostages in Gaza, by Palestinian military group Hamas. Starting early morning more than 3,000 rockets were fire. Hamas is holding hostages, controlling bases and settlements in Israel. There have been more than 1,500 injured and heavy fighting is still ongoing 'I hear their voices and they are banging on the door. I am with my two little children.' My heart is aching Praying for all of those in pain," Gal wrote as she shared news clippings from the attack in Gaza.
The Hollywood star followed the post with another post that read: "I stand with Israel you should too. The world cannot sit on the fence when these horrific acts of terror are happening!"
Talent manager and writer Guy Oseary wrote, "This is horrific.. these murders are being celebrated by the government/regime in Iran. Many women, children and elderly are being taken from their homes and kidnapped. I have always prayed for peace. ALWAYS. I have always spoken up for my Jewish community and have also spoken up for my Arab brothers and sisters. I have no words today. Only heartbreak. Only tears."
The Gaza Strip's militant Hamas rulers launched an unprecedented attack on Israel at daybreak on Saturday, firing thousands of rockets as dozens of Hamas fighters infiltrated the heavily fortified border in several locations by air, land, and sea, catching the country off guard on a major holiday. According to a top Hamas leader, hundreds of missiles were launched from Gaza into Israel.
 
Last Updated Oct 8, 2023, 11:16 AM IST