'I'm too messed up now to type' says Jeremy Renner, shares first selfie since snow plowing accident
Jeremy Renner, an Avengers actor, shares a photo from his hospital bed as officials provide further details about the 'tragic tragedy' in which he was 'run over' by a 6,500kg snow plough. Hawkeye star Jeremy Renner thanked well-wishers for their well-wishers in his first social media post since his New Year's Day snow plowing mishap.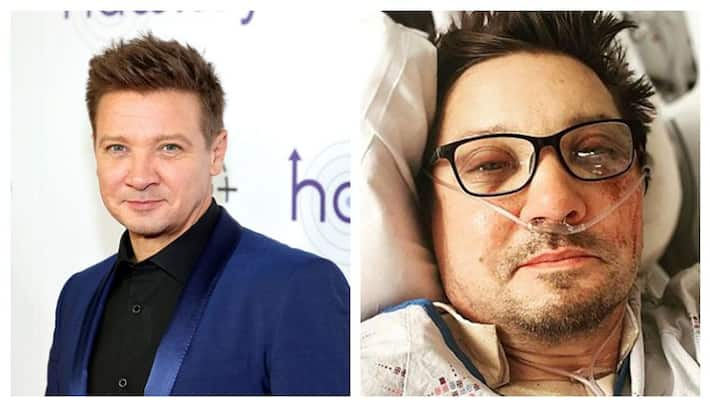 Jeremy Renner has released his first statement since being injured by his own snow plow, with officials confirming that the 6,500kg equipment "ran over" the Avengers star as it began to roll suddenly. Renner, still in serious condition and being treated in intensive care, posted a photo of himself in a hospital bed to Instagram on Tuesday afternoon.
 Renner wrote, "Thank you all for your kind words," the caption read. "Im too messed up now to type. But I send love to you all."
Jeremy's Avengers Endgame co-stars Chris Pratt, Chris Hemsworth and Chris Evans sent love to him in the comment section. "Continued prayers your way brutha," Pratt wrote. Evans commented, "Tough as nails. Love you buddy." Hemsworth said, "Speedy recovery buddy. Sending love your way!"
Earlier on Tuesday, Renner's spokeswoman, Samantha Mast, gave some further details on the mishap that landed Renner in the hospital, stating the actor was cleaning roadways near his Nevada home before the tragedy.
Renner's spokeswoman stated that Renner was clearing snow from a private driveway on Sunday so that his family members could leave his home after celebrating Christmas together. Renner's family members were present when the accident occurred.
The 51-year-old actor was taken to the hospital on Sunda (Jan 01) after being seriously injured while using his snow plow at his property near Reno, Nevada. He required surgery for his chest trauma and orthopaedic injuries, and a witness told a media house that one of Renner's neighbours, a doctor, applied a tourniquet to his severely bleeding leg until paramedics came.
It is reported that the northern Nevada region endured significant snowstorms over Christmas and New Year's, with over 10,000 Washoe County households losing power.
Parts of western Nevada were blanketed with snow at the time of the tragedy. According to the National Weather Service in Reno, the Reno region received 6-12 inches of snow between New Year's Eve and New Year's Day at elevations below 5,000 feet, and up to 18 inches at higher elevations.
Renner, 51, had two Oscar nominations for his work in "The Hurt Locker" and "The Town." He has also played Clint Barton, alias Hawkeye, in multiple Marvel flicks and a current miniseries.
Last Updated Jan 4, 2023, 7:46 AM IST