Funny Video Alert! Deepika Padukone shares cute video on 'just looking like a wow' trend; Ranveer, KJo react
Bollywood actress Deepika Padukone is the latest celeb to hop on the 'just looking like a wow' Instagram trend. The actress' video received a lot of comments and reactions. Her actor-husband Ranveer Singh and filmmaker Karan Johar also reacted to the post.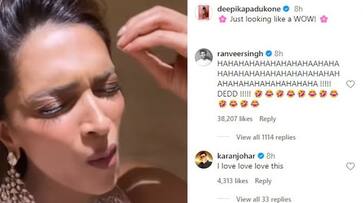 So beautiful, so elegant, just looking like a wow! If you use Instagram frequently, you've probably noticed that this is a line that has been impossible to miss in recent days. These remarks piqued the interest of the Internet after a sales agent used them to persuade the audience to buy the garment material she was selling. Jasmine Kaur became an instant phenomenon, partly due to her descriptions of hues like "laddu peela" and "mouse colour."
Deepika Padukone incorporated the lyrics in her recent reel after they gained prominence on the Internet and were included in a Yashraj Mukhate song.
Deepika is the latest to join the 'looking just like a wow' trend. The actress shared a video on Instagram where she is just act these lines. Deepika (who always just looks like a wow!) took the Internet by storm when she hopped on the trend. 
Here's the video:
Ranveer Singh enjoyed the video and took to the comments section and wrote,"HAHAHAHAHAHAHAHAHAAHAHAHAHAHAHAHAHAHAHAHAHAHAHAHAHAHAHAHAHAHAHAHA !!!!! DEDD !!!!! ." 
Karan Johar also commented, "Am obsessed, I love love love this." Deepika's sister Anisha teased her, "But why are you not wearing mouse colour? ‍♀️"
.
Fans also took to the comments section and praised her. "People on internet trolling her bad, meanwhile her, doing what's she's best at; SLAYINGGG!!! " a fan wrote. "Hahaha you are wow in this ," added another.
Sanya Malhotra, too, jumped on the latest trend, but rather than the original, she used Yashraj Mukhate's song that used these lines. Wamiqa Gabbi was one of the first actresses to have made a video on this trend.
On the other hand, Deepika and Ranveer were the first guests on the new season of Koffee With Karan, which premiered on Thursday. Deepika said on the Koffee couch that she and Ranveer had not committed to each other and was seeing other people until he asked her to marry him. Ranveer is also being trolled for his depiction of the first time he met Deepika, which he described as "fairytale-like." People then learned that he used identical phrases to describe his first meeting with his ex-girlfriend Anushka Sharma in 2011.
Deepika also made headlines after she hinted that she and Ranveer were in an open relationship before he proposed to her. "I wanted to be single for a while because I had come from difficult relationships. I was going through a phase where I said 'I just don't want to be attached, don't want to be committed'. And I had fun. And then he comes along, so I didn't 'commit commit', until he proposed to me. There was no 'commitment as such. Even if we were technically allowed to see other people, we would just keep coming back to each other," she said.
Last Updated Oct 29, 2023, 9:42 AM IST