Fat and bulging are the requirements for South film industry, claims Hina Khan
Hina Khan has an attitudinal problem which recently came to light in a video from the Bigg Boss house
In the video Hina is seen telling contestants that she had got an offer for two South films but she said refused
She is heard saying that the South Indian films only want 'bulging' women as their leading ladies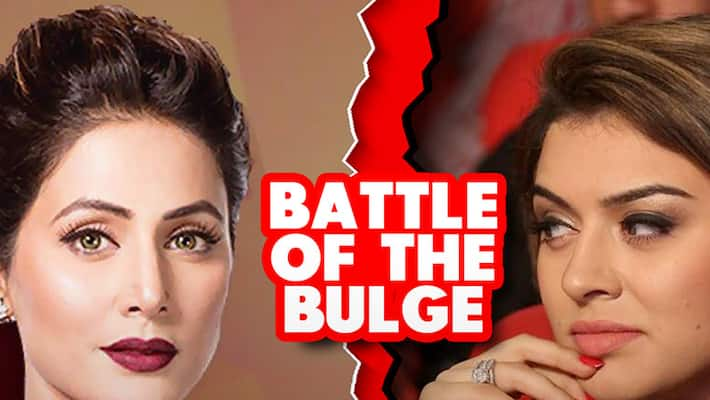 Bigg Boss 11 controversies emerge from Lokhandwala house straight down to South India. Popular TV serial actress Hina Khan was known as the adarsh bahu and the wife who could say no wrong. In real life Hina Khan is now running a tab for the most number of outrageous things one can do in the Bigg Boss house.
Fine, the house requires some drama…so be it, but seems like Hina Khan has an attitudinal problem which recently came to light in a video from the Bigg Boss house.
Look at the way this girl #Hinakhan @eyehinakhan, a TV star degrading South Indian cinema and its #Bulging heroines 😡😡😡 #Disgusting #BB11 pic.twitter.com/MmoV2uWDJf?ssr=true

— sridevi sreedhar (@sridevisreedhar) October 26, 2017
In the video Hina is seen telling contestants that she had got an offer for two South films but she said refused. She says, her reason for saying no was that the two big projects in the South Indian film industry needed her to gain weight. She is heard saying that the South Indian film directors only want  'bulging' women as their leading ladies. In fact, she says she refused a movie with Mahesh Babu for this very reason. The movie, she says, was supposed to star Mahesh Babu along with Victory Venkatesh in the film titled Seethamma Vakitlo Sirimalle Chettu released in 2013.
Now you know how South India has only recently seen heroines with wafer thin bodies but has for long celebrated, fantasised about and glorified the female body in all largeness and beauty. It was the busty, buxom, south Indian heroine who is still every full-blooded male's fantasy. We love our women whatever size they may be.
But seems like for Hina Khan it seems a bit too odd for her taste as she says, "They want such kind of women there where you can see bulges of skin hanging here and there when they wear a saree".  A couple men nod in agreement and say, "Yes, they do that, I wonder why they do that?"
Quick to catch on to her ridiculous excuse, Sridevi Sreedhar slammed the TV actress for her comments saying: "Look at the way this girl #Hinakhan @eyehinakhan, a TV star degrading South Indian cinema and its #Bulging heroines 😡😡😡 #Disgusting #BB11," Hansika Motwani seconded her and sharing the post she wrote, "What is this suppose to even mean?How can she even degrade south industry like this ? #shamehinakhan (cont)"
Hansika, who was most recently seen in Villain along with Mohanlal  wrote, "Doesn't she know a lot of Bollywood actors hv worked & are working in the our south industry ! Shame on you #hinakhan for trying 2demean us. As an actress from the south industry, I would like to say I'm very proud be from our south industry and whatever #hinakhan is saying. And whatever #hinakhan is saying is our pure bullshit . #pleasegetyourtactsrightgirl."
Hina has messed with the wrong crowd. She forgets Vaijyanthimala, Sridevi, Vidya Balan, heroines from the south were all full-bodied when they entered the Bollywood film industry and their acting skills is what got them through and not their figure.
Here's some schooling Hina, you may be wafer thin, size zero or even a perfect 8, that does not in any manner give you an excuse to cast aspersions on the figure or work of other colleagues. Being a woman you are encouraging those same stereotypes we women are working hard to forget. Stop #fatshaming South Indian heroines. Time you worked on your acting skills but after this statement seems like roles will be difficult to come by even with your non-bulging figure.
Last Updated Mar 31, 2018, 7:03 PM IST