Demi Lovato makes SHOCKING claim about UFOs and Aliens; Know details
In a recent interview, Demi Lovato spoke about her extraterrestrial life beliefs. She revealed that she thinks there is life beyond the planet. She also spoke about aliens and said she has seen UFOs multiple times.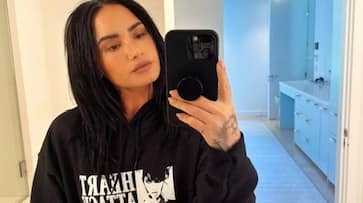 Demi Lovato, the Disney alum and pop icon famous for her hit singles, is making news for her fairytale love life with her longtime boyfriend, Jutes. But Lovato has been vocal about her extraterrestrial life and beliefs since 2020. The actress has revealed that it just can not be that life only exists on our planet and not anywhere else in the universe. But recently, Lovato spoke about her beliefs again in an interview with Howard Stern on The Howard Stern Show. In a recent interview with Howard Stern, Lovato made an appearance on the Howard Stern Show last week, where she spoke about her extraterrestrial life and beliefs. Stern asked her, "What else has been going on with you about extraterrestrial life? I do not believe that there is anything out there."
ALSO READ: Eric: Q Cinemas led by Vijay Babu to make debut in Malayalam films
Lovato chuckled and replied to Stern, "I do not know. I can not fathom that we are the only life in the universe." To which Stern questioned her, "Have you met aliens personally." Lovato replied, "No, I have not." Stern quipped her, "Do you think the word alien is offensive to extraterrestrials?."
Demi Lovato replied, "Okay, here is the thing about that: someone who is an expert in this field told me. In an interview, people were like, Oh my god! She is being sensitive. I am like, No, that's what I got told." Stern then told her she was a sensitive woman because she got genuinely concerned about how extraterrestrials would feel about calling them aliens.
To which Lovato laughed and said, "No, I call them aliens." He further questioned her if she thought that the government was hiding evidence. Lovato then claimed that she had seen a UFO; she said, "Yes, I have not seen aliens per se. But I have witnessed UFOs. I have seen many UFOs." Howard then asked her where she saw the UFO. Lovato revealed she would meditate for some time in a place with a higher frequency, and she would look up and see this orb of light. She also said she did it on her birthday one year.
ALSO READ: Kangana Ranaut takes sly dig at singer Shubh's cancelled India Tour; claims 'Punjab Ka Yehi Haal Hai'
Last Updated Sep 23, 2023, 11:27 AM IST