Kangana Ranaut takes sly dig at singer Shubh's cancelled India Tour; claims 'Punjab Ka Yehi Haal Hai'
After Dino James and AP Dhillon's indirect cryptic posts in support of Shubh's apology to his fans over the cancelled India Tour, Now, in a new update, Bollywood actress Kangana Ranaut has reacted to the ongoing raging controversy of Shubh related to distorted Indian map that is linked directly to Khalistani movement.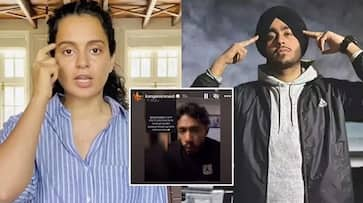 The much-awaited Still Rollin' Tour in India of Canadian singer Shubh was cancelled swiftly by BookMyShow and the Indian government after he shared a distorted map of India on his Instagram story. On the said map, Jammu and Kashmir were omitted, with Punjab shown in black. The North Eastern states were also not shown on the map. The caption read, "Pray for Punjab." Shubh, a globally prominent Canada-based Punjabi singer, is in the news nowadays. His Still Rollin India tour stands cancelled. The singer, formally known as Shubhneet Singh, was slated to perform in multiple locations in India, including Mumbai.
ALSO READ: Shubh India Tour Row: After singer's official apology; AP Dhillon, Dino James drop cryptic social media posts
But days before the concert, Shubh sparked an outrage after he shared a distorted map of India on his Instagram Stories. It led to massive criticism, with many calling him out for his actions. He got accused of supporting separatist Khalistani elements. Amid the controversy, BookMyShow announced that the India tour of Shubh stands cancelled.
Recently, singer-rapper Dino James shared a post on his Instagram story indirectly supporting Shubh. He expressed that it was sad to hear that the concert had been cancelled. Whenever it happens in India, he will attend it and sit in the front row. His post also received massive backlash. In return, he posted a video apology. In the video, he said he does not support anti-national or separatist activities. He added that he did not have any idea about the controversy.
In a new update, Bollywood actress Kangana Ranaut has reacted to this ongoing raging controversy. She took to her Instagram story and wrote, "Punjab ka yehi haal hai. When I spoke against Khalistanis, these people convinced the entire Sikh community that I am against the whole community." She added, "Even today, my films stand banned in Punjab. Unko excite karke misguide karna sabse easy hai."
Dino James also indirectly shared a cryptic post but extended support to the apology issued by Shubh in the entire raging controversy. Dino James wrote a caption on his official X account. His caption read, "I sincerely apologize for the story I posted earlier today. I had absolutely no idea about what had transpired and happened in the last 2 days and was only expressing sadness for another artist. Please pardon my ignorance."
ALSO READ: Parineeti Chopra, Raghav Chadha wedding: Groom, baraat to make smashing entry on boats
Last Updated Sep 22, 2023, 6:44 PM IST