Bigg Boss 17: Did Munawar Faruqui date an 18-year-old? Anurag Dobhal raises shocking accusations
In the recent installment of Bigg Boss 17, Anurag Dobhal made serious accusations against Munawar Faruqui, leading to a shocked reaction from Mannara Chopra.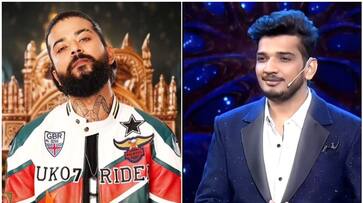 Bigg Boss 17 has been full of excitement and drama in recent episodes, keeping viewers hooked with controversies and intense conflicts. In a notable part of the show, Anurag Dobhal was caught gossiping about Munawar Faruqui's love life with Mannara Chopra. Dobhal made surprising claims, suggesting that Faruqui was in a relationship with someone underage. The focus then shifted to the aftermath of the tasks and games.
As the tasks wrapped up, Mannara playfully teased Munawar, showing interest in his romantic life. Munawar, however, chose to keep things private and didn't share any details about his girlfriend. Mannara seemed upset and stopped talking to him. Later, Mannara and Anurag Dobhal discussed Munawar's love life, where Dobhal revealed that Munawar had a girlfriend from his previous show who was allegedly a minor at that time. Mannara, shocked by the revelation, sought clarification, asking if Munawar had dated an 18-year-old. Dobhal explained, "Joh woh last show mein tha na, usmein se uski girlfriend ka hua tha, tab toh woh nabalig thi abhi balig hui hai. (The girlfriend he had in the last show, she was a minor then; now she is of legal age.)"
Mannara later talked about this with Rinku Dhawan and Aishwarya Sharma, realizing she was the only one unaware of this revelation. Rinku asked Mannara if she was developing feelings for Munawar. Mannara denied any romantic feelings, stating their bond was purely friendly. However, Rinku suggested she sensed a different dynamic between Mannara and Munawar, even mentioning a potential "scene" between them.
For those eager to catch all the drama, Bigg Boss 17 airs on Colors TV every Monday to Friday at 10 pm, with Salman Khan making special appearances on Saturdays and Sundays at 9 pm.
ALSO READ: Miss Universe 2023: Sheynnis Alondra Palacios Cornejo of Nicaragua wins the title, see pictures
Last Updated Nov 19, 2023, 11:30 AM IST