Atif Aslam stops his music concert midway for this reason [WATCH]
Atif Aslam halted his US concert when fans showered money, urging respect for currency. Social media reactions varied, but people majorly supported the singer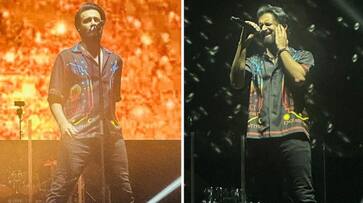 Pakistani singer Atif Aslam recently found himself at the center of a viral controversy during his concert in the United States. Atif Aslam, a renowned artist with a massive fan base in both India and Pakistan, took a surprising step by abruptly stopping his performance mid-way when he noticed a flurry of currency notes being showered on the stage.
In a widely circulated video of the incident, Atif Aslam can be seen passionately delivering his performance when a fan threw a cascade of money notes around him. Instead of continuing his act, the singer decided to pause the concert and address the situation. In a candid moment, he directly confronted the fan responsible for the money shower, delivering a heartfelt message. He said, "My friend, instead of showering money at me, you can donate it. I know you are rich, I appreciate your wealth, but the act of showering money can be seen as disrespectful. It's disrespect to the money."
This spontaneous act of Atif Aslam triggered a lively debate on social media platforms. Some users lauded the singer for his thoughtful response, appreciating his stance on the issue. One user expressed, "Exactly. Even throwing money, putting it in the mouth, and giving it during weddings, especially during baraat and sangeet dances, is such an insult to money." Another user added, "He's a solid guy, and I agree. You should never throw money, however rich you could be." However, there were also those who downplayed the incident, with one user asking, "What's the big deal?"
This incident is not the first time that fans have gone to extremes in their interactions with artists. In August, a video went viral in which a female fan threw her bracelet at Taylor Swift during a performance. Similarly, in another instance, a fan spilled a drink on Cardi B, leading the singer to react by slamming her microphone in frustration.
Arijit Singh, another prominent singer, also faced a similar situation during one of his concerts when a female fan unintentionally hurt him by grabbing his hand. In contrast to some other artists' reactions, Singh handled the incident with politeness and took the opportunity to educate the fan about proper concert etiquette.
ALSO READ: Koffee with Karan 8: Ranveer Singh's first meeting with Anushka Sharma, Deepika Padukone raises eyebrows
Atif Aslam's response during his concert reflects a conscientious and considerate approach to addressing fan behavior during live performances, highlighting the importance of respect and decorum, even in the midst of an enthusiastic crowd. The incident serves as a reminder of the unique challenges and interactions that artists face while performing for their audiences.
Last Updated Oct 27, 2023, 9:18 AM IST