Anusha Dandekar SEXY video: Bollywood actress shows off her perfect beach body in white bikini-WATCH
Bollywood diva and VJ Anusha Dandekar is presently living her best life by the beaches in Saint-Tropez, a coastal town on the French Riviera.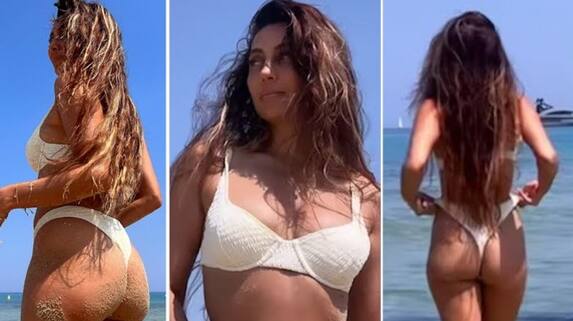 Anusha Dandekar, a Bollywood actress and popular VJ, recently posted a video where she can be seen flaunting her sexy curves, swimming in the water, and reclining on the beach while wearing a white bikini. 
She wore simple jewellery and styled her blonde hair in beachy, flowing waves. She captioned the video as follows:
Welcome to my Future…
I'm tyin up my lose ends
Cuttin out the fake friends
Standing by the deep end
Not afraid to jump in
I pick my battles and I never worry bout it coz I always win
I'm tyin up my lose ends
This is where it begins
Welcome to the future
welcome to my future
Step into my new world
And welcome to my future
Can't stop me now
Something in me woke up
Time for me to show up
I know where I'm going
So I keep my focus… ☀️
Anusha travelled to France with her friends a few weeks ago. She turned to Instagram to express how much fun she is having in Europe. Sharing a picture of herself, "Just a Desi girl, who took a flight to France, Germany came in between, now shopping Italian things and letting the European breeze & sun set her soul free… The beginning…"
She had also posted photos from the beach revealing off her perfect body. She captioned the photo in French, "Un peux de français fait du bien à ton âme… (white heart emoji)". It loosely translates to "A little French is good for your soul". Check out the post right here:
Anusha has hosted several MTV series, including House of Style, Love School, Dance Crew, and Teen Diva. She has served as a judge on India's Next Top Model.
Last Updated May 31, 2023, 10:16 AM IST