American rapper Lizzo looses over 2 Lakh Instagram followers amid sexual harassment allegations
According to Social Blade, a statistics website, Lizzo has lost 2,19,570 Instagram followers since the lawsuit was filed on August 1.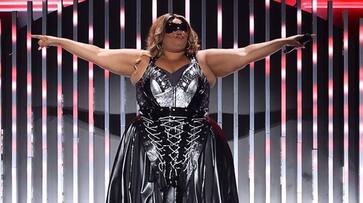 After her former backup dancers accused her of sexual harassment, American rapper Lizzo found herself on the receiving end of the accusations. Numerous social media users appear to have backed off from expressing their support in the scandal, and her uncharacteristic decline in followers on social media speaks volumes about the same. Unfortunately, since three former backup dancers filed a lawsuit against her for allegedly forcing them to perform in sex shows and creating a hostile work environment, Lizzo's official Instagram account has lost close to 2,20,000 followers.The surprising lawsuit against the Grammy Award-winning star, Big Grrrl Big Touring, and dance captain Shirlene Quigley was reportedly filed by former dancers Arianna Davis, Crystal Williams, and Noelle Rodriguez, according to news reports. This divided the fans.
ALSO READ: Kushi: Get ready for the trailer starring Vijay Deverakonda, Samantha Ruth Prabhu releasing on THIS date
According to Social Blade, a statistics website, Lizzo has lost 2,19,570 Instagram followers since the lawsuit was filed on August 1. Before she reacted to the troubling allegations on Thursday, the singer of "About Damn Time" lost roughly 1,70,000 Instagram followers. Lizzo, whose real name is Melissa Jefferson, still has 13.3 million followers on her official account @lizzobeeating despite the legal dispute. 
Ex-backup dancer Davis, Williams, and Rodriguez asserted in their lawsuit that Lizzo, 35, invited them on a night out that culminated in Amsterdam's red light district while they were there for a concert in February.  The region is well renowned for its nudity-filled clubs, taverns, sex theatre, and sex shops. "Things suddenly became out of control. According to the lawsuit, Lizzo "began urging cast members to take turns touching the naked performers, catching dildos thrown from the performers' vaginas, and eating bananas sticking out of the performers' vaginas.
Lizzo is known for her body-positive lyrics and unabashed self-love, so the allegations surrounding her rocked the globe to its core. She has also acknowledged that she occasionally must "make difficult decisions," but insisted that it was never her purpose to "make anyone uncomfortable." The 'Juice' singer finally spoke out about the shocking allegations in a long statement shared on social media on Thursday, labelling the claims "false" and "unbelievable." "These last few days have been gut-wrenchingly difficult and overwhelmingly disappointing," she continued, adding more detail. They have questioned my work ethic, integrity, and respectability. My character has been under fire," Lizzo said at the opening of her post on X, formerly known as Twitter.
ALSO READ: Vijay Raghavendra's last post with wife Spandana goes viral after her death; fans share condolences
Last Updated Aug 7, 2023, 7:06 PM IST