ODI World Cup 2023: Ravi Shastri's blunt take on India's poor fielding show
Indian commentator Ravi Shastri hit out at the Indian fielders for their lack of effort in the field. One after the other, the Indian fielders dropped crucial catches that could have restricted New Zealand to a lower score.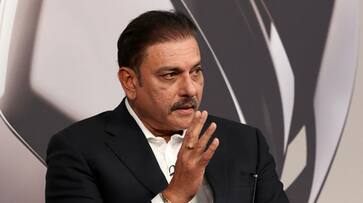 The men in blue put up a poor show on the field against New Zealand on Sunday at the Himachal Pradesh Cricket Association Stadium in Dharamsala. India is considered as one of the best fielding sides in the world but Sunday was not the day for them.
Ravindra Jadeja was the first one to showcase poor fielding as he went on to drop the catch of Rachin Ravindra. This was when Rachin Ravindra was in the early stages of the inning. The Kiwis batsman was just finding his foot in the den.
Also Read: ODI World Cup 2023: Shubman Gill breaks Hashim Amla's record; becomes fastest to 2,000 ODI runs
Ravindra Jadeja gave the lifeline to Rachin Ravindra as the batsman scored 75 runs. Daryl Mitchell was also given the lifeline twice due to poor fielding from India. Jasprit Bumrah dropped a sitter as KL Rahul misjudged another catch.
Former Indian player Ravi Shastri has lamented India's poor fielding. This is after several catches brought New Zealand back into the game. It was a worthy performance from the New Zealand batting lineup.
Ravi Shastri said, "270 is 270. They are runs on the board. Had those catches been taken, India would have restricted New Zealand to 235-240. For 270, you have to bat well. There is no given that you are going to win the game. You will have to play exceptionally well because New Zealand's strength is their fielding. Plus they will be bowling with the new ball and that will be the contest."
Last Updated Oct 22, 2023, 10:59 PM IST