'Dada and balcony, a better love story than...': Netizens hail Sourav Ganguly for this act amid Cyclone Amphan
Sourav Ganguly produced another balcony act which left netizens impressed. Twitter users compared the BCCI president's latest balcony picture with the shirt-waving scene at Lord's when India won the NatWest Series trophy in England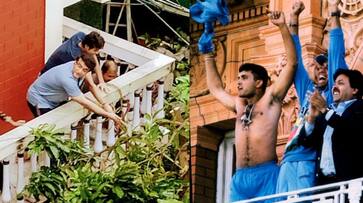 Kolkata: Indian cricket fans were reminded of Sourav Ganguly's Lord's balcony moment when he posted two pictures on social media after Cyclone Amphan destroyed lives and properties in West Bengal and Odisha.
Watch: David Warner dances to Akshay Kumar's 'Bala' song; Virat Kohli laughs
Ganguly, who is now the president of the Board of Control for Cricket in India (BCCI), shared two images of him saving a mango tree after heavy rainfall in Kolkata and other parts of Bengal. Rain had uprooted the mango tree.
Also read: ICC's dos and don'ts to resume cricket
"The mango tree in the house had to be lifted, pulled back and fixed again .. strength at its highest (sic)," Ganguly captioned the pictures. In both photos, Ganguly and others are seen fixing the mango tree from the balcony.
The images have gone viral on social media. Netizens compared this with Ganguly's shirt-waving scene at Lord's when India defeated England in the final of the NatWest Series final in 2002.
Also read: 'Huge respect' for Ganguly for shirt-waving act, says Nasser Hussain
In that epic game, India were rescued by Mohammad Kaif and Yuvraj Singh after they were almost out of the game while chasing 326. Soon after India had secured a tense two-wicket win at the iconic Lord's stadium, Ganguly removed his India jersey and waved from the dressing room's balcony.
Also read: Nasser Hussain called Mohammad Kaif 'bus driver' at Lord's in NatWest Series final
Last Updated May 23, 2020, 2:39 PM IST