Coronavirus: Here are ICC's dos and don'ts; 14-day isolation camp, social distancing and more
Here is all you need to know about ICC's guidelines (dos and don'ts) to resume cricket amid the health crisis due to the coronavirus (COVID-19). Here is the full document of 'ICC Back to Cricket Guidelines'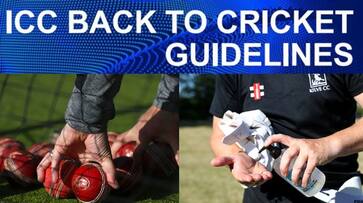 Dubai: The coronavirus (COVID-19) pandemic has halted cricket around the world. Now, to resume the sport, the International Cricket Council (ICC) has issued guidelines to be followed for the safety of players, match officials and others.
Also read: Virat Kohli posts unseen photo; fans love it
These guidelines include social distancing, umpires using gloves, players to take care of their equipment (can't hand over caps, sunglasses to umpires), user of hand sanitiser regularly, 14-day isolation camp for players and more.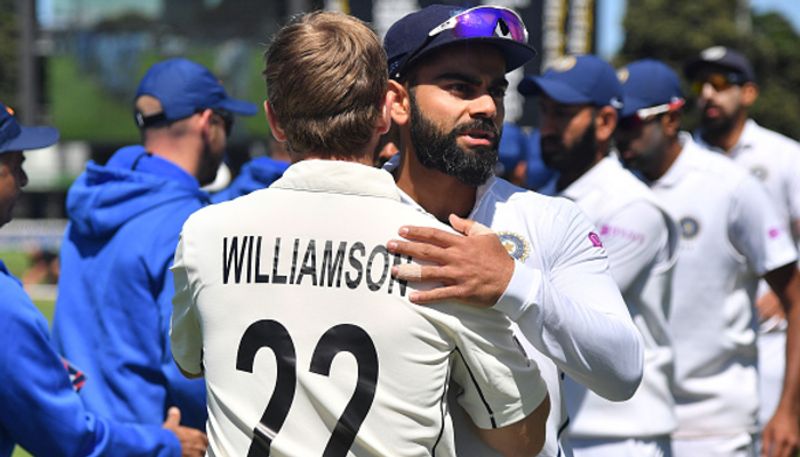 Players have to maintain social distance
Also read: India likely to travel to South Africa
"ICC Back to Cricket Guidelines" is a document developed by the ICC Medical Advisory Committee in consultation with Member Medical Representatives, and provides guidance for the safe resumption of community cricket, domestic professional cricket and international cricket, ICC said on Friday (May 22).
Also read: 'Dinosaur' in Virat Kohli's house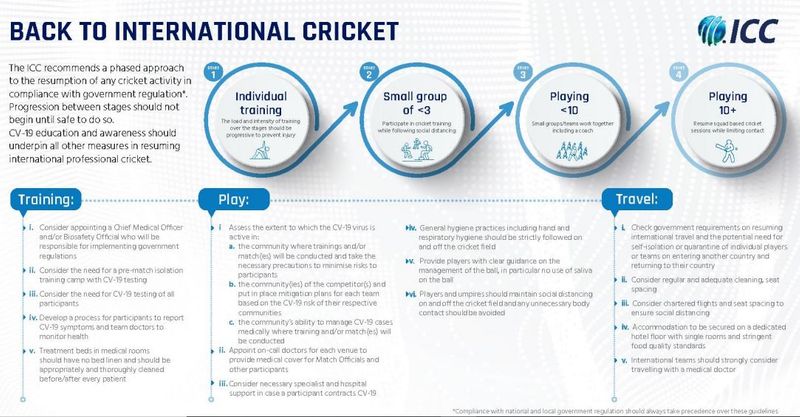 The guidelines do not provide answers to when the game can resume in different parts of the world, rather provide a framework with practical suggestions on how members can resume cricket in a manner that protects against the risk of transmission of or infection with the COVID-19 virus, ICC said.
The ICC advised its members to use these guidelines as the basis to create their own policies for return to cricket activity in compliance, in all cases, with local and national government regulations (which should always take precedence) and to ensure the cricket community applies the necessary safety measures when resuming cricket.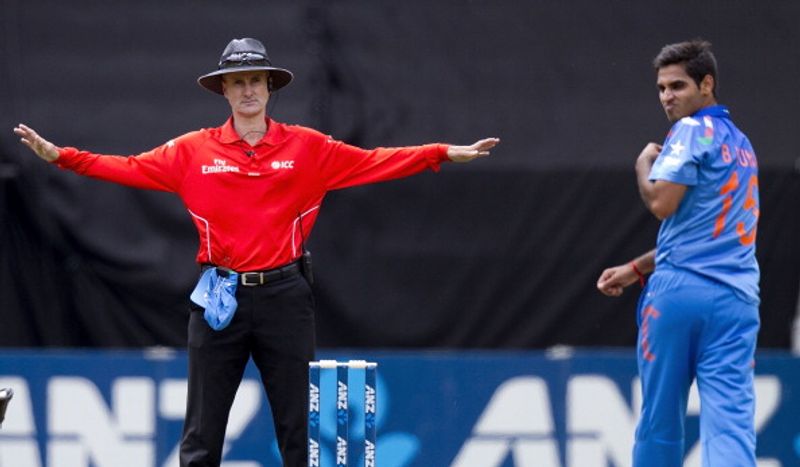 Umpires will have to wear gloves
ICC said, "The purpose of this document is to provide guidance for the safe resumption of cricket activities (training, playing, and travelling) in countries and regions at community, domestic professional and international levels. These guidelines have been developed by the ICC Medical Advisory Committee in consultation with Member Medical Representatives.
"This document does not seek to address the question of 'when cricket can restart' – as this is individualised to each country. Rather, this document offers guidance on how members can return to play alongside the resumption of outdoor sport and exercise in their country once they are able to."
Here are the key guidelines from ICC for resumption of international cricket
Cricket specific risks
There are several risks specific to the sport of Cricket which must be considered alongside general physical exercise guidance issued by national governments and sporting bodies. Cricket is a non-contact team sport and so the risks and exposure to CV-19 may differ from full contact team sports. In particular:
- Cricket requires players to be in close proximity at times and involves the use of shared facilities.
Therefore, should a team member or opponent develop any CV-19 symptoms or be found to develop an infection, participants will require isolation and testing as they are most likely to have been in close contact.
- Although Cricket is not a contact sport, the cricket ball is a potential transmission medium and rules should be applied around the management of the ball.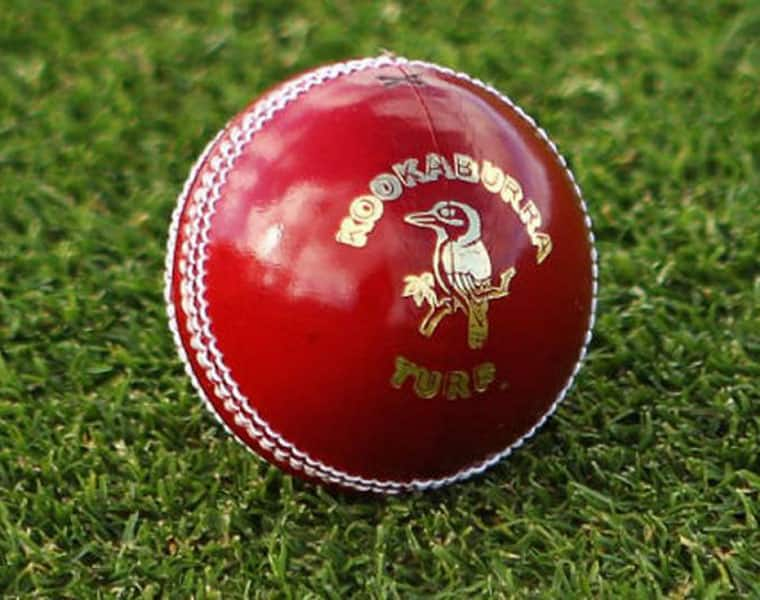 - On-field behaviour that includes celebrations with body contact, and shared use of drink bottles, towels and equipment can pose a risk in cricket and should be strongly discouraged.
- Players should be encouraged to take responsibility for their own items (sunglasses, cap, jumpers, towels etc.) and instructed against handing over any items to umpires or teammates.
- Participants, in particular umpires, match referees and support staff may be considered vulnerable individuals that are at higher risk of severe illness due to CV-19. This includes older individuals (approx. 60+) and people of any age with underlying medical conditions such as cardiac, kidney, diabetes, obesity, weak innate immunity, etc.
- Safe and effective return of players to strength and conditioning (particularly bowlers). Limited preparation may cause higher injury levels.
- Cricket is officiated by umpires on the field of play and their health and well-being needs to be taken into full consideration as they spend the greatest amount of time in close proximity to players.
- Government restrictions on air travel could delay the resumption of domestic and international cricket.
- Based on international evidence, transmission of CV-19 is assumed to be greater for indoor sporting activity than for outdoor activity, even with taking similar mitigation steps. Extra caution should therefore be taken for any indoor cricket activity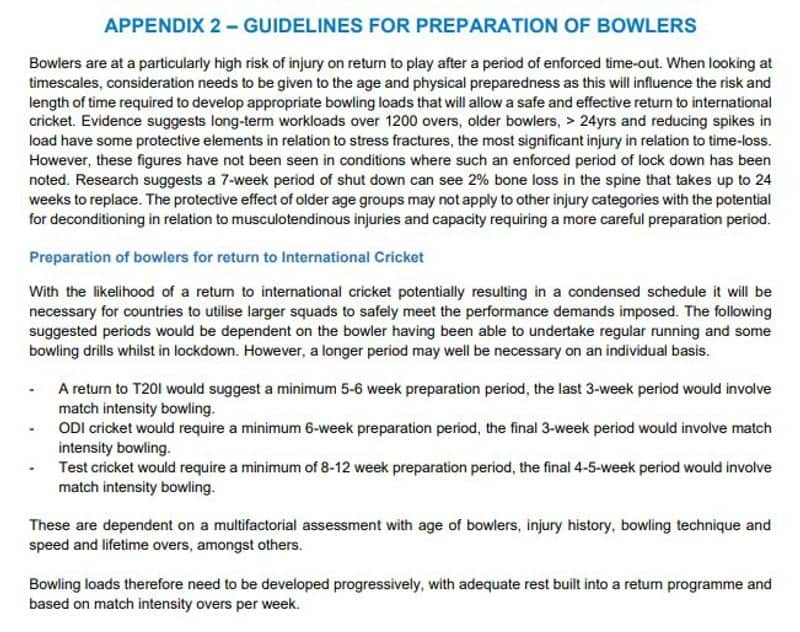 Back to training
Consider appointing a Chief Medical Officer and/or Biosafety Official who will be responsible for implementing government regulations and the biosafety plan to resume training and competition.
Consider the need for a pre-match isolation training camp with health, temperature checks and CV-19 testing – e.g. at least 14 days prior to travel to ensure the team is CV-19 free.
Develop an appropriate CV-19 testing plan during training and competition. This will entail:
* Testing plan – frequency and timing of CV-19 tests
* Polymerase Chain Reaction (PCR) – laboratory based or point of care testing (speed, accuracy, and cost considerations)
* Optional serology testing
* Private vs government laboratory (speed and cost)
* Medical support – requirement of infectious disease doctors and nurses for sample collection and results management.
- A risk assessment of training and match venues must be carried out to ensure precautions are taken to minimize risks and provide a safe workplace for those participating in cricket. This should include:
* The protocol and frequency of cleaning shared facilities
* Availability of hand sanitizers in prominent places (entry/exit and high traffic areas) around training and match venues.
- Ensure protocols are in place for players attending training or competition to maintain social distancing of at least 1.5m on-field and off-field (or as indicated in government guidelines in your country).
- Consider the age and health of participants and recommend against high-risk individuals participating in training or competition.
- Develop a process for participants to report CV-19 symptoms and for team doctors to monitor health.
- Personal equipment should be sanitised before and after use (training and competition).
Back to play
Assess the extent to which the CV-19 virus is active in:
* The community where trainings and/or match(es) will be conducted and take the necessary precautions to minimise risks to participants
* The community(ies) of the competitor(s) and put in place mitigation plans for each team based on the CV19 risk of their respective communities
* The community's ability to manage CV-19 cases medically where training and/or match(es) will be conducted

- Consider the need for medical resources for a series or event and ensure it does not compromise on public health CV-19 efforts
- Appoint on-call doctors for each venue to provide medical cover for match officials and other participants
- Consider necessary specialist and hospital support in case a participant contracts CV-19
Provide players with clear guidance on the safe management of the ball. This will include

* Regular hand sanitising when in contact with the ball
* Do not touch eyes, nose, and mouth after making contact with the ball
* Saliva should not be used on the ball
Players and umpires should maintain social distancing on the cricket field and that includes no handing over of player items (cap, towels, sunglasses, jumpers) to the umpire or teammates. Consider adopting a process that will assist the bowler in managing his/her items. Umpires may also be encouraged to use gloves when handling the ball
If spectators are permitted, consider restrictions and additional safety measures that will need to be implemented.
Back to travel
Travel – consider chartered flights and seat spacing to ensure social distancing.
- Transport – consider regular and adequate cleaning, seat spacing, use of PPE and distance (time and space) between the arrival of teams at match venues.
- Accommodation – consider dedicated hotel floor, single rooms, food quality and hygiene.
- International teams should strongly consider travelling with a medical doctor.
- Travelling teams should ensure necessary arrangements are in place to support a team member should they test positive while on tour.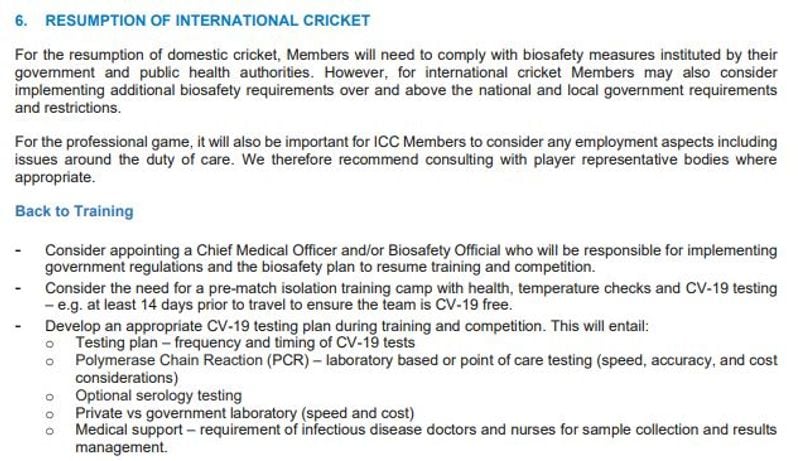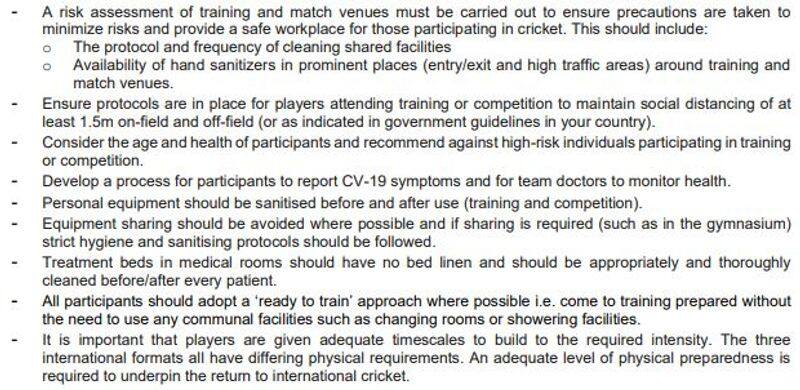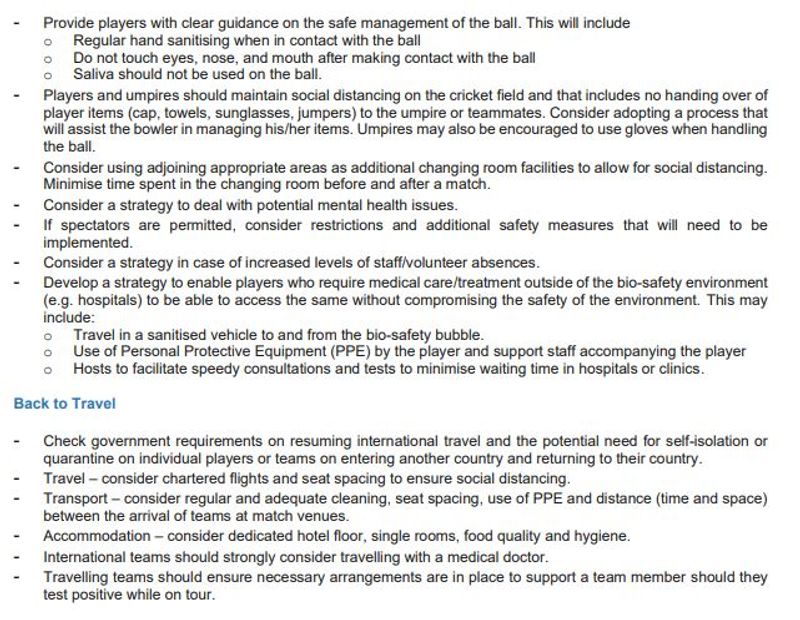 The full document of ICC guidelines can be accessed here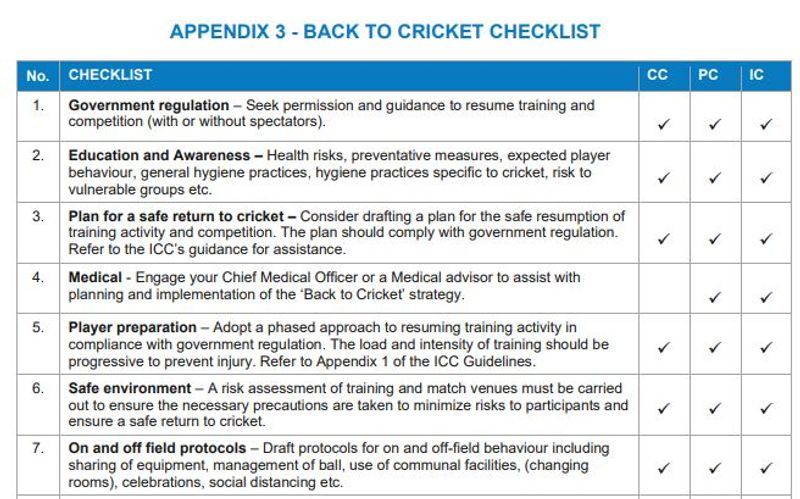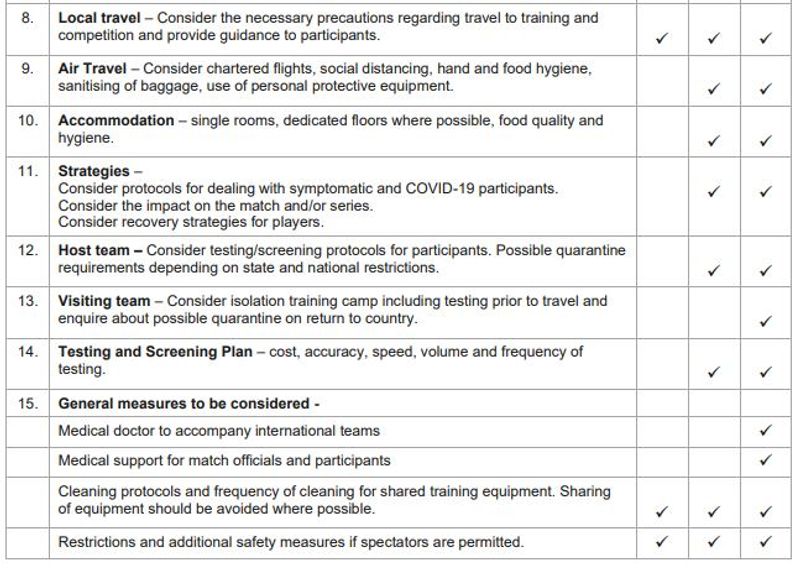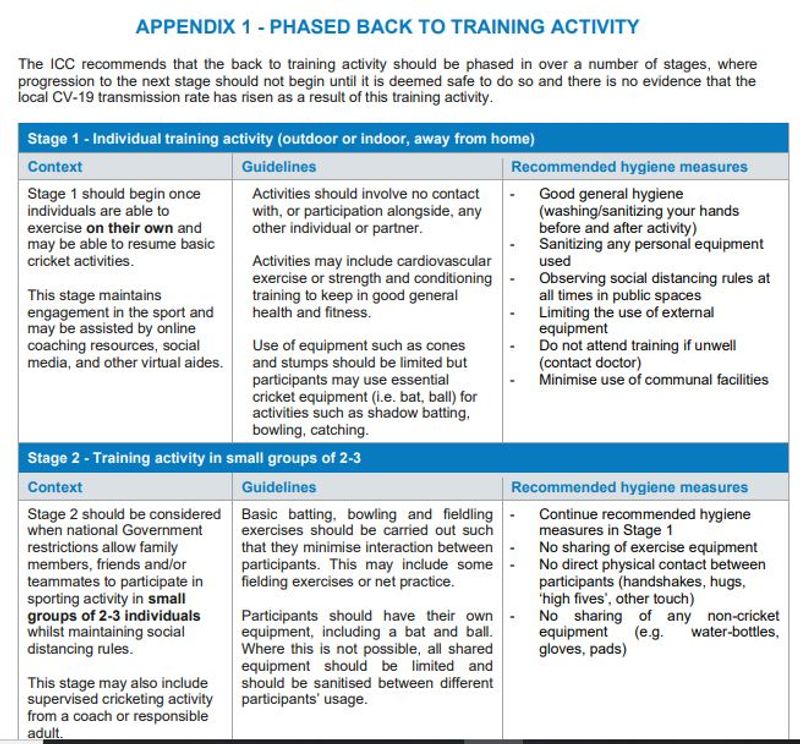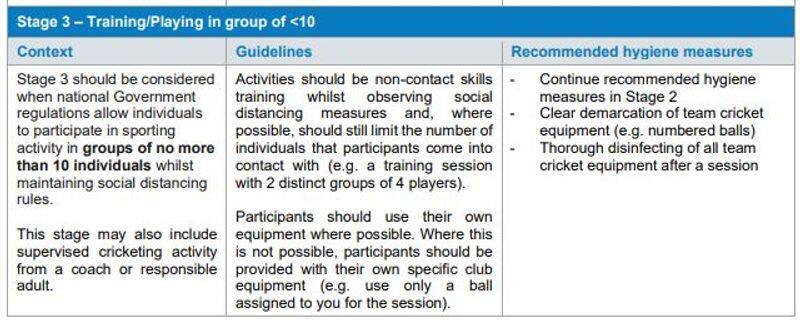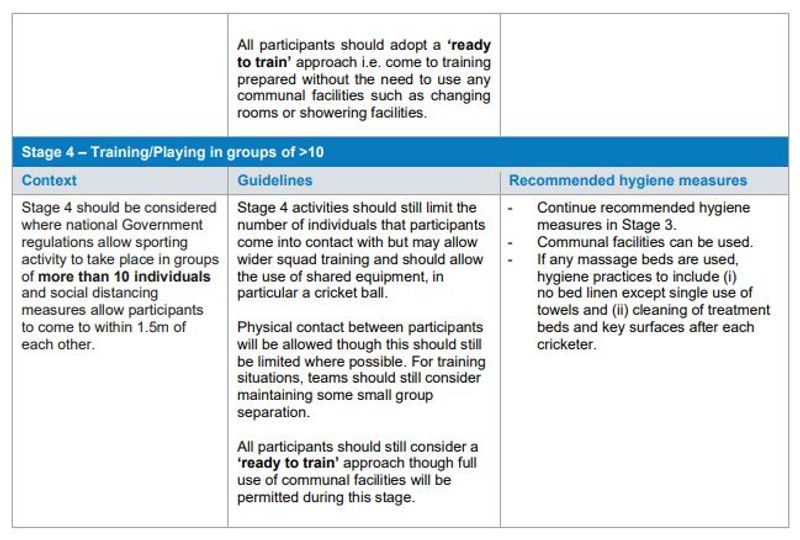 Last Updated May 23, 2020, 10:59 AM IST