'Hat-trick loading': Rohit Sharma bowling in nets ahead of Bangladesh clash sends fans into a frenzy (WATCH)
As India gear up to face Bangladesh on Thursday, a video of Rohit Sharma bowling in the nets has caught the attention of Indian cricket fans.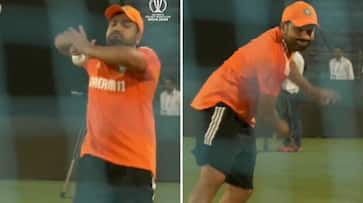 Rohit Sharma has emerged as a strong leader for the Indian cricket team in the ongoing ODI World Cup 2023, with his performance in three unbeaten matches boosting the nation's hopes of clinching the title on home soil. The Indian skipper has showcased remarkable form, amassing 217 runs, including a record-breaking century against Afghanistan, all while handling the immense pressure of the role. As India gear up to face Bangladesh on Thursday, a video of Rohit Sharma bowling in the nets has caught the attention of Indian cricket fans.
"5-wicket haul loading against Bangladesh," noted one user on X, while another added, "Giving tough competition to Shadab."
A third X user noted, "He will lead India's bowling department also."
A fourth added, "Rohit Sharma bowling in the nets. Hat-trick loading against Bangladesh."
In 2021, Rohit succeeded the cricket superstar Virat Kohli as the captain of the white-ball team, with the objective of securing India's third World Cup victory and their first international title since the 2013 Champions Trophy. His leadership has earned praise from cricket legend Ricky Ponting, who commended Rohit for his ability to manage the pressures of the job.
Recently, Australian legend Ricky Ponting noted that Rohit's temperament suits the captaincy role well, especially when compared to the more emotionally expressive Virat Kohli.
"Someone like Virat, who is a bit more heart-on-the-sleeve, and probably listens to the fans and plays up with the fans a little bit more, someone with his personality would probably find it a bit harder," Ponting wrote in an International Cricket Council column on Tuesday.
"But I think Rohit will be fine with it. He's a terrific bloke and has been a great player for a long time, and he's done a great job as leader of India."
Rohit's history of success as a skipper, with five IPL titles leading the Mumbai Indians and guiding India to the Asia Cup title, has prepared him for the challenge of the World Cup. This success has undoubtedly helped him rebound from the disappointment of India's semi-final defeat in the T20 World Cup under his captaincy last year.
Rohit Sharma has consistently demonstrated his ability to perform under high expectations. Despite being dismissed for a duck in the team's opening victory against Australia, his captaincy decisions were highly regarded. He quickly returned to form with a stunning 131 against Afghanistan, surpassing the legendary Sachin Tendulkar with a record seventh World Cup century. His century was the fastest by an Indian in a World Cup, outpacing Kapil Dev's century against Zimbabwe in 1983. Rohit's exceptional performance continued in the highly anticipated clash against arch-rivals Pakistan, where he scored a match-winning 86, elevating India to the top of the World Cup table.
Throughout his career, Rohit Sharma has amassed 10,329 ODI runs, including 31 centuries, in 254 matches since his debut in 2007. Notably, he was not part of India's victorious 2011 World Cup campaign.
Also read: ODI World Cup 2023: India looks to avoid the season of upsets, Bangladesh desperate for a win
Last Updated Oct 18, 2023, 6:40 PM IST