Virat Kohli's 35th birthday: Pakistan's Mohammad Rizwan has this wish for Indian batting icon
Special wishes from Pakistan's Mohammad Rizwan for Virat Kohli's upcoming 35th birthday celebration.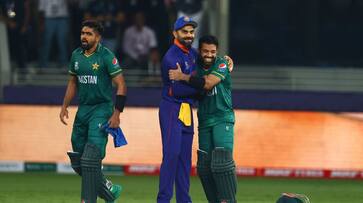 Pakistan's Mohammad Rizwan, a prominent cricketer, expressed a special desire for Virat Kohli's upcoming 35th birthday. As Virat Kohli's birthday approaches, which coincides with Team India's participation in the ICC Cricket World Cup 2023, fans and well-wishers hope to witness him match Sachin Tendulkar's record for the most One Day International (ODI) centuries (49) on this significant occasion. Upon learning about Kohli's birthday falling on November 5th, Pakistani wicket-keeper batsman Mohammad Rizwan also shares the aspiration to witness the legendary batsman achieve his 49th ODI century.
On Virat Kohli's 35th birthday, the Indian cricket team is slated to face South Africa, and Rizwan hopes to witness Kohli achieve another century, thus matching Tendulkar's record.
During an interview with India Today, Rizwan conveyed his well wishes: "It's heartening to learn that his birthday is on the 5th of November. I wish him all the best and a happy birthday, although I don't personally celebrate mine and don't believe in it. I extend my best wishes to Virat. I hope he can attain his 49th ODI century on his birthday. Additionally, I wish that he can reach his 50th ODI century during this World Cup."
To celebrate 'King Kohli's' birthday, the Cricket Association of Bengal (CAB) has organised an elaborate plan to distribute Kohli masks to the spectators. The match is expected to be a full house, with all tickets being sold well in advance. In addition to distributing masks, the CAB intends to host a cake-cutting ceremony before the match commences and present Kohli with a memento.
CAB President Snehasish Ganguly commented, "We are seeking approval from the ICC for this. We want to make Virat's day extra special. Our goal is to have every fan in the stadium donning Kohli masks as he enters. We plan to distribute approximately 70,000 masks on that day." This initiative aims to recreate the electric atmosphere witnessed at the Eden Gardens when cricket legend Sachin Tendulkar played his 199th Test match at the venue in November 2013.
Also Read: ODI World Cup 2023: Glenn Phillips optimistic about New Zealand's semifinal chances despite recent defeats
Last Updated Nov 2, 2023, 3:09 PM IST