ODI World Cup 2023: Unwell Shubman Gill's fate hangs in the balance; Rahul Dravid keeps a brave front
The Indian cricket team faces an unexpected setback as star opener Shubman Gill battles a suspected case of dengue fever just days before their crucial World Cup opener against Australia. While head coach Rahul Dravid remains cautiously hopeful, the uncertainty around Gill's condition raises questions about team dynamics and their strategy for the upcoming matches.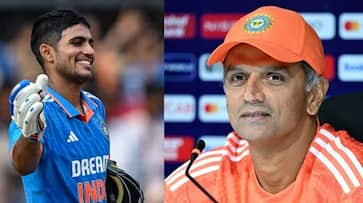 Shubman Gill, who is unwell, may not be able to play in India's opening World Cup match against Australia, raising concerns for the Indian team. The nature of Gill's illness has not been confirmed by the BCCI yet, but head coach Rahul Dravid remains cautiously optimistic with 36 hours left before the match. The Indian team's concerns have grown as Shubman Gill, who has been in great form, is suspected to have contracted dengue, making him uncertain for the Sunday match against Australia. In the event that Gill is unavailable, Ishan Kishan may step in as an opener. Although the BCCI has not officially confirmed the illness, Rahul Dravid expressed hope for Gill's recovery during a press conference.
Dravid, known for his reserved statements, stated, "He is feeling better today. The medical team is monitoring him, and he is doing better." He also added, "He is not technically ruled out for the first game. The medical team is keeping a close watch, and the decision will be made tomorrow."
However, the situation may not be as optimistic as it appears. A confidential source within the BCCI revealed, "Gill is seriously ill and is currently not in a condition to participate in at least the first two World Cup games." Earlier, the BCCI had stated that they were awaiting updates on Gill's condition, with the medical team closely monitoring him.
Reportedly, Shubman Gill has been suffering from high fever since arriving in Chennai. He will undergo tests for dengue before a final decision is made regarding his participation in the opening match. If dengue is confirmed, Gill could potentially miss several games in the World Cup.
Typically, recovery from dengue takes 7-10 days for a player to regain match fitness. However, if there is a significant drop in his platelet count, the recovery process could be longer. If Gill does not play against Australia, there is a high likelihood that he may also miss the matches against Afghanistan on October 11 and Pakistan on October 14 if his recovery takes longer than expected.
The final decision on his participation will be made by the medical team, depending on whether it is a normal viral fever or something more severe. Gill, who has been in exceptional form with 1,200 runs this season, has been a crucial part of the opening partnership with Rohit Sharma. His absence for an extended period would undoubtedly be a significant setback for the Indian team.
Also Read: ODI World Cup 2023: Netherlands cricketers Teja, Vikram and Aryan savour Indian homecoming
Last Updated Oct 7, 2023, 12:39 PM IST