ODI World Cup 2023: Netherlands cricketers Teja, Vikram and Aryan savour Indian homecoming
Netherlands' cricketers Teja Nidamanuru, Aryan Dutt, and Vikram Singh are set to play on the grand stage of the World Cup in India, a journey that holds deep sentimental value as they return to their roots.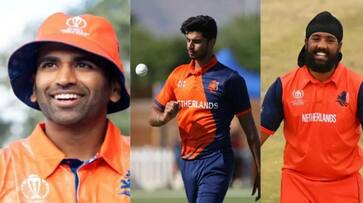 When Netherlands' cricketers Teja Nidamanuru, Aryan Dutt, and Vikram Singh take the field for their opening World Cup match against Pakistan in Hyderabad, it will be more than just a cricketing moment; it will be a heartfelt journey back to their roots. Although they have embraced their cricket careers in the Netherlands, these players have maintained a deep connection with India, the land of their birth or ancestry.
Teja, born near Hyderabad, is particularly excited about playing a World Cup match in front of his family in his hometown. Vikram, eager for the trip to Dharamsala, plans to visit relatives in Jalandhar. Their stories highlight the unique blend of cultures and cricketing journeys that connect them to India.
Teja has vivid memories of time in India, and of the sacrifices his parents, especially mother, had to make to help him realise his dream.
"My parents decided to move to New Zealand in search of a brighter future. It was my father's dream to live overseas and we had the opportunity to do this because my mother got a job in Auckland at the district health board as a dialysis technician. I was just six then.
"There she raised me as a single mother. Life hasn't been straightforward but I've learnt to make the most of my situation," said Teja.
Also Read: Asian Games 2023: Afghanistan outclasses Pakistan; to face India in men's cricket final
Last Updated Oct 6, 2023, 4:38 PM IST