ODI World Cup 2023: SL's Angelo Mathews challenges Bangladesh's 'time out' call with proof (WATCH)
Angelo Mathews has challenged the umpire's decision with video evidence to prove his case. This dispute has ignited discussions in the cricket world to adhere to cricket regulations.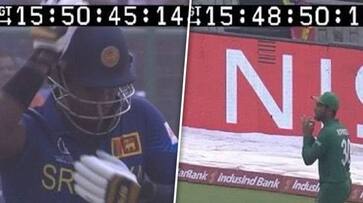 Sri Lanka's versatile cricketer, Angelo Mathews, found himself entangled in one of the most unusual dismissals in cricket history, being declared 'timed out' during a Cricket World Cup 2023 match against Bangladesh. Frustrated and adamant about the injustice of his dismissal, Mathews wasted no time expressing his displeasure. Post-match, Mathews shared compelling evidence to counter the fourth umpire's version of events, asserting that he indeed reached the crease within the prescribed two-minute timeframe.
Mathews received the 'timed out' verdict when he failed to reach the crease within two minutes after Sadeera Samarawickrama's departure. An appeal from Shakib led to the umpire's decision to send Mathews packing, citing the World Cup cricket regulations. Despite a discussion with Shakib, Mathews stood by his decision, compelling the seasoned all-rounder to exit the field.
Following Sri Lanka's loss, Mathews declared that they possessed video proof confirming his timely arrival at the crease and pledged to release a formal statement on the matter.
Sharing the video evidence on X (formerly Twitter), Mathews stated, "The fourth umpire is mistaken! Video evidence demonstrates that I still had five seconds to spare, even after the helmet issue! Can the fourth umpire rectify this, please? Safety is paramount, as I simply couldn't face the bowler without a helmet."
When former Sri Lanka cricketer Russel Arnold referenced ICC playing conditions stipulating that a batter should be prepared to face a delivery within two minutes, Mathews contended that his delay was helmet-related, not due to lateness. Furthermore, an image from the broadcast seemed to support Mathews' claim that he reached the crease within the allotted two-minute window.
In response to the incident, the fourth umpire suggested that Mathews had exceeded the two-minute limit even before the helmet issue arose. However, Mathews vehemently disagreed.
During the post-match press conference, Mathews emphasized, "Obviously, we all play to win, and if it's within the rule, it's fine. But the rule clearly states that, in my case today, I was there within two minutes. We have video evidence. We will release a statement later on. We have video evidence, footage, everything was reviewed. I'm not just making baseless claims; I'm presenting the facts."
He added, "So, we have the video evidence where, from the moment the catch was taken, and then from the time I walked into the crease, I still had five seconds remaining even after the helmet was damaged. When we talk about player safety, you tell me, is it appropriate for me to take guard without my helmet on? It's simply a matter of common sense."
Also Read: Ian Bishop: Umpires' appeal withdrawal request to Shakib Al Hasan was declined twice
Last Updated Nov 7, 2023, 1:27 PM IST