Ian Bishop: Umpires' appeal withdrawal request to Shakib Al Hasan was declined twice
In a recent cricket incident that has captured the attention of fans and experts alike, Ian Bishop, a former cricketer and commentator disclosed that during a crucial moment in the match, the umpires made two separate requests to Bangladesh captain Shakib Al Hasan, asking him to withdraw an appeal.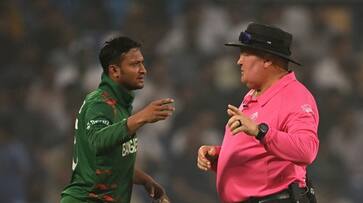 West Indies Legend Adds a New Dimension to Angelo Mathews' 'Timed Out' Dismissal in Cricket World Cup: During the recent Bangladesh vs. Sri Lanka match in Delhi, Angelo Mathews faced a unique "timed out" dismissal, a term unfamiliar to most cricket fans, marking the first instance of this unconventional mode of dismissal in international cricket. Mathews, the former captain, took more than two minutes to get ready to face a delivery, prompting opposition skipper Shakib Al Hasan to appeal, which the on-field umpire ultimately upheld.
Mathews came to the crease after Sadeera Samarawickrama's wicket fell in the 25th over. However, he encountered a delay in resuming play due to a loose helmet strap. Following Bangladesh's appeal, the umpires engaged in an extended discussion with the players, including Mathews. They ultimately decided that Mathews was out, and the 36-year-old veteran reluctantly left the field, leaving many spectators puzzled by the decision. Some Bangladesh fans applauded this unusual turn of events.
In the aftermath of this incident, Sri Lanka managed to score a total of 279 runs. At the start of the Bangladesh innings, cameras captured former West Indies cricketer Ian Bishop having a conversation with Angelo Mathews. Bishop, who is part of the commentary panel for the Cricket World Cup's official broadcaster Star Sports, shared insights into what had transpired during the incident.
"Ian Bishop mentioned that the umpires asked Bangladesh captain Shakib Al Hasan to withdraw the appeal on two separate occasions, but Shakib declined both times," Bishop revealed.
As per the laws of cricket, after a wicket falls or a batsman retires, the incoming player must be prepared to face the ball within two minutes.
The Association of Cricket Statisticians and Historians noted that there have been six instances of "timed out" dismissals in first-class cricket, with no recorded instances in List A or Twenty20 cricket until Mathews' case.
Angelo Mathews, a highly experienced cricketer, was participating in his 225th one-day international match on that day, having accumulated 5,900 runs and taken 122 wickets throughout his career. He has also represented his country in 106 Test matches and 78 Twenty20 internationals. In cricket, there are ten different modes of dismissal, with "timed out" being one of the rarest.
In a memorable incident from the past, former India captain Sourav Ganguly narrowly avoided a "timed out" dismissal when he had to rush onto the field after a wicket fell during a South Africa Test match in Cape Town in 2007. With the next batsman, Sachin Tendulkar, unable to take the field due to the time he spent off the pitch and VVS Laxman taking a shower, the responsibility to come out to bat fell on Ganguly, who was still in his tracksuit. While the timed-out rule in Test matches allowed a three-minute grace period, Proteas skipper Graeme Smith chose not to appeal and patiently awaited Ganguly's arrival, even though he had exceeded the time limit.
Also Read: ODI World Cup 2023: SL's Angelo Mathews shocked by Bangladesh's time out decision; dubs it 'disgraceful'
Last Updated Nov 7, 2023, 12:47 PM IST