ODI World Cup 2023: No need to have off-spinner, claims Kuldeep Yadav ahead of mega event
Kuldeep Yadav, the Indian spinner, delivered a stellar performance in the Asia Cup 2023, securing a place in the final with his impressive 4-wicket haul.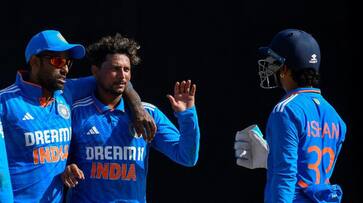 Indian spinner Kuldeep Yadav put on a stellar performance, registering impressive figures of 4 for 43 in 9.3 overs against Sri Lanka. His remarkable bowling contributed to India's thrilling victory, securing their spot in the Asia Cup final as they defended a total of 213 runs. Kuldeep's outstanding four-wicket haul, along with support from Jasprit Bumrah and Ravindra Jadeja, helped India dismiss Sri Lanka for 172, even as Sri Lankan youngster Dunith Wellalage shone with a five-wicket haul.
In an exclusive interview with Star Sports, Kuldeep shared his perspective on the role of off-spinners within the team.
"I don't consider myself an off-spinner; I see myself as a traditional leg-spinner. The only difference is that I bowl with my left hand. I possess variations, including a googly. So, I don't believe there's a necessity for an off-spinner. If the team's balance is good with two quality spinners, then that is sufficient," Kuldeep explained to Star Sports.
The 28-year-old also offered insights into his game plan when facing left-handed or right-handed batsmen.
Also Read: Asia Cup 2023: Rohit Sharma's heartwarming gesture in the triumph over Pakistan
"I always focus on constraining the batsman, targeting the stumps, whether it's a left-hander or a right-hander, to restrict their freedom to play shots. My aim is to prevent them from getting an opportunity to unleash their strokes because if they do, it becomes easier for them to connect. The key is to bowl consistently at a good length and keep them contained."
Kuldeep further elaborated on the adjustments he made to his bowling style following his return from injury.
"When I was recovering from injury, our physio advised me to avoid putting too much load on my knee. Initially, I struggled to adapt to this advice. After a few months, I quickened my run-up and stopped altering my angle. Gradually, I began focusing on delivering straighter balls, which made things easier. My approach became more aggressive, and my rhythm improved. It wasn't a natural transition; it took about 5-6 months. Sometimes during the IPL, I would disrupt my rhythm and struggle with my footwork, which wasn't easy."
Also Read: Asia Cup 2023: Shoaib Akhtar fumes as 'India fixed the game' against Sri Lanka accusations - WATCH
Last Updated Sep 13, 2023, 4:59 PM IST