ODI World Cup 2023: India dealt a heavy blow as Hardik Pandya suffers ankle injury against Bangladesh
The highly anticipated ICC ODI World Cup match between India and Bangladesh took a dramatic turn as India's star player, Hardik Pandya, suffered a significant injury. In a nail-biting moment, Pandya was seen in pain, prompting the team's physio to take immediate action.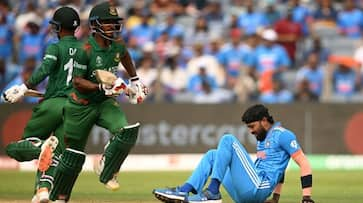 In the highly anticipated ICC ODI World Cup match between cricket powerhouses India and Bangladesh, the Indian team suffered a significant setback when one of their key players, Hardik Pandya, sustained an injury. The incident sent shockwaves through the crowd as it unfolded.
As the pain etched across Hardik Pandya's face became evident, the team's physio rushed onto the field to assess the extent of his injury. It was a concerning moment for both the team and fans, as the cricket world watched with bated breath.
Struggling to maintain his composure, Hardik Pandya wobbled towards his run-up, signalling that he was in considerable discomfort. The physiotherapist swiftly initiated treatment on his left leg, carefully taping the affected area to alleviate the pain and provide much-needed support.
Amidst the tense atmosphere in the stadium, Hardik Pandya displayed his unwavering determination and resilience as he rose to his feet, assuring everyone that he was ready to continue despite the evident pain. However he had to leave the field without completing his over. Virat Kohli stepped in to bowl the 4 remaining deliveries.
Last Updated Oct 19, 2023, 3:17 PM IST