Mitchell Marsh points out Glenn Maxwell's role in Australia's World Cup quest
Australian all-rounder Mitchell Marsh praises Glenn Maxwell's invaluable contribution to the team, highlighting Maxwell's significance as the third spinner for Australia in the forthcoming ODI World Cup.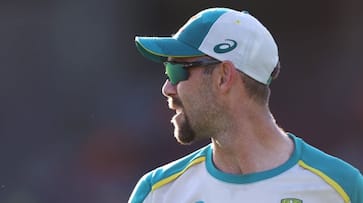 Mitchell Marsh, the all-rounder, believes that Glenn Maxwell's presence will be crucial for Australia's success in the upcoming ODI World Cup, emphasising Maxwell's role as the third spinner in the team. Maxwell returned to top-tier cricket after a six-month hiatus due to ankle soreness and the birth of his son. In a remarkable comeback, Maxwell delivered a career-best performance, securing four wickets for just 40 runs and steering Australia to a commanding 66-run victory over India in the third and final ODI.
Speaking at a press conference, Marsh praised Maxwell's exceptional spell, stating, "It was a great spell. He came back after having not played much cricket for the last few months. It was great to see him back. It is the energy that Maxi brings to the team, his presence, and the balance that he gives us."
Marsh highlighted Maxwell's multi-faceted contribution, saying, "We obviously know that his batting is absolutely class, but what he can do with the ball, and the options that he will give us with our all-rounders, is vital for us going into the World Cup."
Discussing Maxwell's potential role in the World Cup, Marsh added, "There may be wickets where he's the third spinner throughout this World Cup. But just the ability for us to play the three quicks, a spinner, and have Maxi, who has the ability on the right wicket to bowl ten overs, I think you see a lot of teams around the world have guys like Maxi; it gives you a lot of flexibility with the teams you can pick or the way you can structure your batting line-up."
Marsh, who played a pivotal role in Australia's victory with his match-winning 96 runs in the first innings, faced challenges in the extreme heat and humidity, which led to cramping, preventing him from fielding in the second innings.
Describing the challenging conditions, Marsh commented, "It was as tough as anywhere I have batted in. When I came off, I was absolutely exhausted, (had) full-body cramp but obviously (it was) nice to contribute to a win like that. I thought we played outstanding cricket."
Also Read: Tim Southee cleared for ODI World Cup after successful thumb surgery
Marsh also revealed that he had intended to bowl but was hindered by cramps, saying, "I wanted to (bowl), basically bowled a couple of balls (during warm-up) but basically had cramps all the way up in my legs. It has been a big couple of weeks, I have played 10 out of a possible 11 games in the last three weeks, so with what is to come, the staff said to cool my jets for the fielding innings."
Despite narrowly missing a century for the second time against India this year, Marsh remained focused on team goals, stating, "It is never nice to get that close when you want to get to a hundred, (it was) unfortunate, but the way we all batted was outstanding."
He praised the team's performance, speaking about the importance of the template they established for their approach moving forward to the World Cup.
Marsh attributed his improved batting performance to clarity in his role within the team and his opportunity to open the innings, bringing him closer to his first ODI century since 2016.
Reflecting on his innings, he said, "You would always like more hundreds. I have batted most of my career in the middle to the lower order; you do not always get the opportunity to score hundreds back there. This year I have batted at the top and I am getting myself into positions to score hundreds, most importantly for the team to set the platform."
Also Read: ODI World Cup 2023: Rohit Sharma's encouraging words on Jasprit Bumrah's form ahead of mega event
Last Updated Sep 28, 2023, 12:33 PM IST