Asia Cup 2023: Sunil Gavaskar hails Jasprit Bumrah's mastery against Pakistan
Cricket legend Sunil Gavaskar showers praise on Jasprit Bumrah for his remarkable performance in the Asia Cup 2023 clash between India and Pakistan.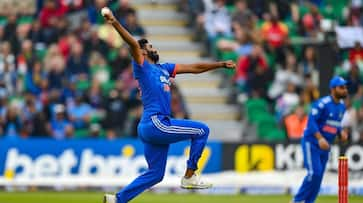 Sunil Gavaskar, the former India captain, showered accolades upon Jasprit Bumrah for his outstanding performance in the India vs. Pakistan Super 4 match of the ongoing Asia Cup 2023. Making his return to ODI bowling after a year, Bumrah left an indelible mark. Bumrah appeared in top form right from the outset, unsettling the Pakistani batsmen with his exceptional pace, bounce, and swing. During his first spell, comprising five overs, Bumrah posed numerous challenges for the Pakistani lineup. Out of the 30 deliveries he bowled, he managed to deceive the batsmen a staggering 17 times, making him nearly unplayable.
Furthermore, Bumrah claimed the vital wicket of in-form batsman Imam-ul-Haq with a masterful delivery, setting the tone for India's bowling dominance. His fellow bowlers capitalized on this momentum. With the fast bowlers putting India in a commanding position, Kuldeep Yadav proceeded to dismantle Pakistan's lower and middle order. Consequently, India bundled out Pakistan for a mere 128 while defending a massive 356-run target, securing their most significant ODI victory over Pakistan in terms of runs, a resounding 228-run win.
Sunil Gavaskar praised Jasprit Bumrah's impressive form, emphasizing his rhythm against Pakistan. Speaking to Sports Tak's Vikrant Gupta, the legendary cricketer-turned-commentator lauded India's all-around performance, highlighting that the team's convincing victory against Pakistan was a testament to their dominance.
Also Read: Asia Cup 2023: Rain threatens Super 4 showdown between India and Sri Lanka
Furthermore, Gavaskar commended KL Rahul for his remarkable century and his commitment to keeping wickets after the innings, dispelling any concerns about his fitness. Speaking specifically about Bumrah, Gavaskar pointed out that even a world-class batter like Babar Azam found it challenging to read Bumrah's deliveries.
"This Indian team is well-prepared, and I hope they can maintain this rhythm in both the Asia Cup and the upcoming World Cup," added Gavaskar.
India's next match is against Sri Lanka on Tuesday (September 12), where a victory will secure their spot in the Asia Cup 2023 final.
Also Read: Asia Cup 2023, India vs Pakistan: KL Rahul was asked to get ready 5 minutes before toss, reveals Rohit Sharma
Last Updated Sep 12, 2023, 2:09 PM IST