Asia Cup 2023, India vs Pakistan: KL Rahul was asked to get ready 5 minutes before toss, reveals Rohit Sharma
During the India vs Pakistan Asia Cup Super 4 showdown, Rohit Sharma revealed a last-minute lineup change that brought KL Rahul into the limelight. Shreyas Iyer's untimely back spasms just before the toss paved the way for Rahul's eleventh-hour entry into India's starting XI. Rahul, making a comeback after injury, left an indelible mark by scoring a remarkable century alongside Virat Kohli.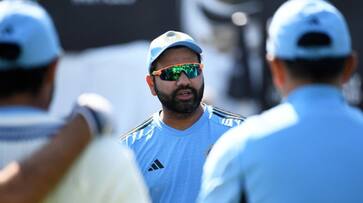 Rohit Sharma disclosed an intriguing twist as KL Rahul became a last-minute inclusion in India's lineup. He also discussed Jasprit Bumrah's return following India's victory over Pakistan. In a reminiscent twist of fate from the 2016 Indian Premier League (IPL) season, KL Rahul found himself thrust into action for India at the eleventh hour. Back then, Rahul's IPL debut with the Royal Challengers Bangalore (RCB) occurred due to an injury to Mandeep Singh, just moments before the coin toss. Rahul not only introduced himself with a sublime half-century but also provided excellent support to Virat Kohli. Fast forward to the present, Rahul once again joined forces with Kohli, this time for the Indian national team.
Shreyas Iyer's unfortunate back spasms, minutes before the toss of the high-stakes India vs. Pakistan Asia Cup Super 4 clash, led to a strategic reshuffle. Rahul stepped in to fill the vacancy in the starting XI. Remarkably, this marked Rahul's return to the Indian squad after an extended period of injury-induced absence. The 31-year-old had sustained a minor injury in the lead-up to the Asia Cup, missing the initial stages of the tournament. His return was only made possible by Iyer's injury during the warm-up session.
In a testament to his resilience and skill, Rahul repaid the selectors' trust with a stunning century in his comeback match against Pakistan. Together with Virat Kohli, he scripted a record-breaking partnership during the ninth match of the continental tournament. Following India's triumphant performance against Pakistan, Captain Rohit Sharma provided insights into the unexpected lineup change, revealing that Rahul received news of his inclusion just five minutes before the toss.
Also Read: Asia Cup 2023: Controversy erupts as Pakistan Cricket Board official visits Colombo casino
Rohit remarked, "Virat's innings displayed brilliant pacing, and then KL Rahul, making a last-minute comeback from injury to play just moments before the toss. We told him to prepare. It truly reflects the mindset of the player. Our batting, from the openers to Virat and KL, showcased numerous positives."
The match bore witness to a historic partnership of 233 runs between Rahul and Kohli, marking the highest-ever partnership in the history of the Asia Cup. Centurions Kohli (122) and Rahul (111) remained unbeaten as India, under Rohit's captaincy, amassed an imposing total of 356/2 in 50 overs. Reflecting on India's commanding 228-run victory over Pakistan, Rohit also shared his thoughts on the return of the pace ace Jasprit Bumrah, whose early wicket-taking prowess set the stage for India's dominance in the match.
Also Read: Asia Cup 2023, India vs Pakistan: KL Rahul silences critics with century; sparks meme fest
Last Updated Sep 12, 2023, 12:56 PM IST