Petrol and diesel price today, August 8: Check latest rates in Delhi, Mumbai, Noida and other cities
Keep yourself updated on the daily fluctuations in petrol and diesel prices, as Oil Marketing Companies align the rates with international benchmarks and forex rates. The prices of petrol and diesel experience changes every day at 6 am, reflecting the dynamic nature of these markets.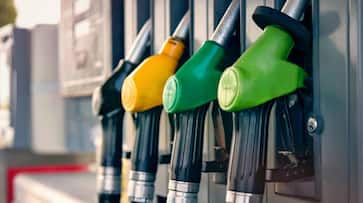 Petrol and diesel prices on Tuesday (August 8) witnessed stability across major cities including New Delhi, Kolkata, Mumbai, and Chennai. Although the recent fuel price showcased a steady pattern in these rates, localized fluctuations continue to shape the fuel market dynamics.
A pivotal milestone in fuel price adjustments was marked on May 21 of the preceding year, when Finance Minister Nirmala Sitharaman orchestrated significant reductions in excise duty. This strategic move led to an impactful drop of Rs 8 per litre in petrol prices and a Rs 6 per litre decrease in diesel prices. In the aftermath of this central government initiative in May 2022, various states took autonomous decisions to trim VAT rates on fuels, while others implemented additional cess on both petrol and diesel.
Renowned public sector Oil Marketing Companies (OMCs) including Bharat Petroleum Corporation Ltd (BPCL), Indian Oil Corporation Ltd (IOCL), and Hindustan Petroleum Corporation Ltd (HPCL) maintain a steadfast practice of aligning their petrol and diesel prices with global exchange rates and benchmark pricing.
Bengaluru:
Petrol rate: Rs 101.94
Diesel rate: Rs 87.89
Chandigarh:
Petrol rate: Rs 98.65
Diesel rate: Rs 88.95
Chennai:
Petrol rate: Rs 102.63
Diesel rate: Rs 94.24
Gurugram:
Petrol rate: Rs 97.04
Diesel rate: Rs 89.91
Kolkata:
Petrol rate: Rs 106.03
Diesel rate: Rs 92.76
Lucknow:
Petrol rate: Rs 96.57
Diesel rate: Rs 89.76
Mumbai:
Petrol rate: Rs 106.31
Diesel rate: Rs 94.27
New Delhi:
Petrol rate: Rs 96.72
Diesel rate: Rs 89.62
Noida:
Petrol rate: Rs 96.65
Diesel rate: Rs 89.82
Last Updated Aug 8, 2023, 8:28 AM IST