WATCH: Dramatic videos of long queues of vehicles leaving Burning Man Festival in Nevada go viral
Heavy rainfall at the Burning Man festival in Nevada delayed departures, caused a massive traffic jam, and led to one reported death, while attendees partied through muddy conditions.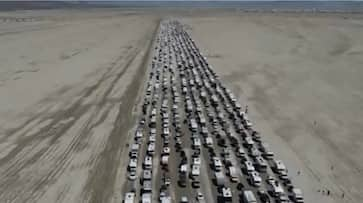 After a nine-day-long music and culture festival in Nevada, attendees began departing the venue, causing a massive traffic jam that went viral on social media thanks to drone footage capturing long queues of vehicles leaving the Burning Man festival. The departure was initially delayed due to continuous and unusually heavy rainfall, reportedly the worst in the festival's 30-year history. Finally, on Monday, the green light was given, and tens of thousands of festival-goers waited in the desert to exit.
Unfortunately, the event had a tragic note as authorities confirmed one person's death at the Black Rock Desert festival grounds on Sunday, though few details were provided, and an investigation is ongoing. Organizers clarified that the individual's death was unrelated to the adverse weather conditions.
Despite the challenging weather, thousands of attendees partied on Sunday as rain turned the Nevada desert into a quagmire of mud, leading officials to order everyone to seek shelter. The festival's traditional climax, the burning of an effigy, was postponed until Monday evening.
Martyna Sowa, a dancer and participant at the event, expressed her surprise at the deteriorating conditions, describing it as a "really strange experience." Originally, attendees were informed they wouldn't be able to leave until Tuesday, but those with pressing reasons were allowed to depart.
Faye, another Burning Man participant, shared her ordeal of being "covered in mud for the past three days."
Burning Man, an annual event, draws thousands of people to the Nevada desert for music, art, and communal living in a temporary, self-sufficient community of like-minded individuals. Originating in 1986 as a small gathering on a San Francisco beach, it has since evolved into a high-profile event attended by celebrities and social media influencers, with regular tickets costing $575 (approximately Rs 48,000). This year's edition commenced on August 27th.
Last Updated Sep 5, 2023, 9:38 PM IST