'Putin's puppets will pay': How trans US journalist became Ukraine's information warrior & Russia's fierce foe
Explore the remarkable journey of Sarah Ashton-Cirillo, a transgender American journalist turned frontline combatant and information warrior in Ukraine, as she confronts Russian propaganda and advocates for truth and justice.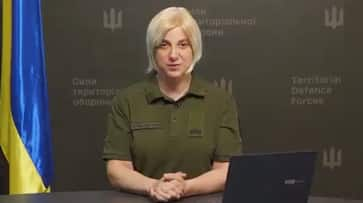 In March 2022, Sarah Ashton-Cirillo, a transgender woman from Nevada, initially arrived in Ukraine with the intention of reporting on refugees. However, her journey took an unexpected turn, leading her to fight for Ukraine's territorial defense forces. Today, she serves as a spokesperson for the country, explaining the ongoing war to English-speaking audiences.
From her concealed studio location in Kyiv, Ashton-Cirillo confidently stated in a recent video, "Russia hates the truth that their obsessive focus on a Ukrainian volunteer is simply allowing the light of the Ukrainian nation's honesty to shine brightly."
"Next week, the teeth of the Russian devils will gnash ever harder, and their rabid mouths will foam an uncontrollable frenzy as the world will see a favourite Kremlin propogandist pay for their crimes. And this puppet of Putin is only the first. Russia's war criminal propogandist will all be hunted down, and justice will be served as we in Ukraine are led on this mission by faith in God, Liberty and complete Liberation," said the blond-haired 46-year-old American, who was wearing an olive green collared t-shirt.
Russian television recently aired a one-hour special dubbing Ashton-Cirillo a "terrible disgrace to the Ukrainian people" and a "monster." Despite her background in journalism and research, she had initially planned only a two-week stay in Ukraine. However, she has now spent nineteen months in the country, rising to the rank of junior sergeant. She hosts live YouTube shows named "Ukraine in the Know" and "Russia Hates the Truth" and maintains an active Twitter presence with 156,000 followers.
Reporting, Mocking, and Monitoring
Ashton-Cirillo, who doesn't speak Ukrainian, focuses on reporting Ukraine's official statements, ridiculing Russian media coverage, and keeping an eye on international media. In August, she called for a boycott of CNN after they labeled foreign fighters in Ukraine as "mercenaries." CNN promptly corrected the article.
During a studio tour, Ashton-Cirillo introduced her colleagues, all of whom possess frontline experience. She then donned her uniform, featuring her unit's badge and the Latin motto "Ad resistendum" (To Resist). Maintaining editorial control, she seeks to provide a narrative that avoids a dry, statistics-heavy approach to war coverage.
While her YouTube channel garnered just over 20,000 views in August, the degree of outrage directed at Ashton-Cirillo in Russian media far surpasses her viewership. She stated, "The Russians are obsessed," adding that she consistently trends on Google worldwide, with most traffic coming from Russia.
Mixed Reactions in Ukraine
Ukrainian reactions to Ashton-Cirillo have been mixed, with some questioning how certain aspects of her identity align with Ukrainian society. Ukraine has made strides in recent years toward greater tolerance, hosting LGBTQ events and allowing LGBTQ soldiers to serve in the army. However, the European Court of Human Rights has criticized the country for its lack of legal recognition for same-sex couples.
From Observer to Combatant
Upon her arrival, Ashton-Cirillo worked in Ukraine's eastern Kharkiv region, where she combined journalism with civic activism.
This region suffered Russian occupation and numerous missile strikes. Her firsthand experience witnessing war crimes and Russian terrorism led her from impartial observation to becoming a combatant. She volunteered to join a unit of Crimean Tatars, an ethnic Muslim minority, and assumed the role of combat medic with the call sign "Blonde."
Russian Attention and Harassment
As Ashton-Cirillo gained prominence, she attracted the attention of Russian authorities. In April 2022, Russian foreign ministry spokeswoman Maria Zakharova referred to her as a "transgender journalist from Las Vegas who broadcasts from Kharkiv and photographs themselves hugging bandits."
While initially upset, Ashton-Cirillo's Ukrainian colleagues encouraged her to be even more outspoken. Russia escalated its attacks on her earlier this year, accusing her of being a puppet of the US State Department.
Due to increasing threats, the armed forces decided to remove Ashton-Cirillo from the front line and suggested she work for the media unit. She initially hesitated, feeling guilty about leaving her comrades behind. She admitted, "I didn't want to come to Kyiv—100 percent. I wanted to be with my unit in the east." Nevertheless, she recognized the importance of her current role in the information war.
Last Updated Sep 14, 2023, 3:36 PM IST