North Korea's Kim Jong Un to sell weapons to terror groups in Middle East amid Israel-Hamas war in Gaza?
North Korea's Kim Jong Un has reportedly instructed officials to support Palestinians amid the ongoing Israel-Hamas war in Gaza and could consider selling weapons to Middle Eastern terror groups.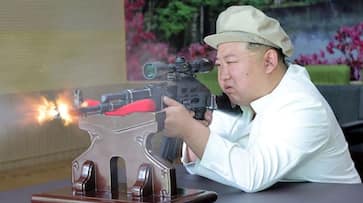 North Korean leader Kim Jong Un has reportedly instructed his officials to support Palestinians during the Israel-Hamas conflict and has even considered the possibility of selling weapons to Middle Eastern terror groups. This information is based on a report from The Wall Street Journal, citing South Korea's intelligence agency.
North Korea has been under heavy United Nations sanctions due to its nuclear program. South Korean lawmakers have mentioned that North Korea had previously sold anti-tank rocket launchers to Hamas. They also suggested that North Korea might try to export more weapons during the Gaza conflict, as indicated in The Wall Street Journal report.
Also read: Hamas' warning to IDF: Will return Israeli soldiers in black bags, make Gaza a 'curse' for the nation (WATCH)
South Korea's National Intelligence Agency's director, Kim Kyou-hyun, informed lawmakers that Kim Jong Un has called for "wide support" for Palestine as a means to leverage the ongoing war, according to the Korea Herald.
Recent evidence from images and videos posted by Hamas fighters showed the use of suspected North Korean weapons during an attack on Israel on October 7. Experts and South Korean officials have identified North Korean F-7 rocket-propelled grenades and Bulsae-guided anti-tank missiles. North Korea, however, denied these claims, stating that reports of Hamas using its weapons were "groundless and fake rumors" orchestrated by the US.
In the past, North Korea's Foreign Ministry accused Israel of bombing a hospital in the Gaza Strip, labeling it a war crime committed with the support of the US. Israel, in response, attributed the explosion to a failed rocket launch by Hamas, which denied responsibility.
Also read: 500 km of tunnels, but no bomb shelters! Hamas openly admits lives of Gazans mean nothing to them (WATCH)
The conflict between Israel and Hamas escalated significantly when Hamas terrorists carried out deadly incursions into Israel on October 7, resulting in over 1,400 Israeli casualties and the taking of more than 200 people as hostages in Gaza. In response, Israel initiated a counteroffensive, declaring war against Hamas with the goals of eliminating the terror group and freeing the hostages.
As the conflict continued, the death toll in Gaza surpassed 8,500 people due to Israeli airstrikes and ground operations, which intensified over the past four days.
Last Updated Nov 3, 2023, 10:25 AM IST