Watch: Man, wearing helmet, dodges death twice; video leaves netizens stunned
A video of a man dodging death twice in road accident, because he wore a helmet, is going viral, and netizens are left jaw dropped after watching it. Delhi police shared the video with an advisory message.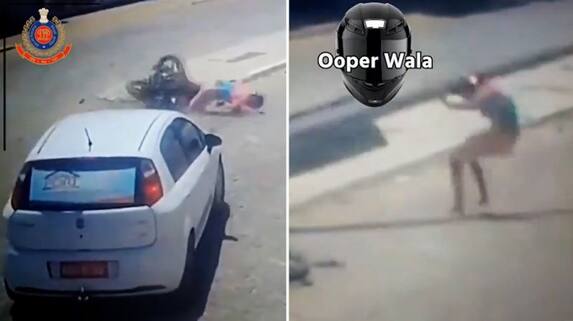 There are tons of videos of people dodging death that can leave our jaws dropped. Such videos leave us to rethink believing in destinies. Now we have such a video of a man dodging death after meeting a horrible accident.
But the catch about this video is that he dodges death twice, leaving everyone's jaw dropped. Yes, you heard it right! The man escapes his death twice just because of wearing a helmet. Delhi police took the video to share it on their official Twitter handle and made people understand the significance of wearing a helmet while riding a motorcycle.
ALSO READ: Watch: Elephant mimicking little girl's dance steps goes viral; Netizens react
In the video, an unidentified man can be seen riding his motorcycle on the road, and he suddenly collides with a car moving to cross the road. The man loses his balance and skids a few meters on the road. The bike also skids along with the man and stops by colliding with a light pole on the roadside.
We think this might have gotten over, but as the man somehow gets up with his injuries, the light pole, which was under a collision impact of his bike, falls right on his head, leaving him knocked down to the ground again. In a few moments, the man again gets up from the ground and sits on the road. No doubt that the miracle escape from the horrible two accidents was only because of his helmet. Take a look at the spine-chilling video:
The video was shared on the Delhi police's official Twitter handle with a caption that said God helps those people who wear a helmet. The video has gathered 1.5 million views and around 50K likes in just five days of being online. Netizens were shocked to see the man's miraculous escape from death and loaded the comment section with their opinions. A user said the video left his jaw dropped, while another one said the video was unbelievable. A third user said the helmet was the only reason he is alive after meeting such a horrible accident, while another said choosing the right headgear is very much essential for the riders. Many people said the man seemed to be alive in the video but indeed had suffered severe injuries.
ALSO READ: Watch: Elephants being rescued after getting stuck in mud for two days; Netizens react
ALSO READ: Watch: Lightning strikes Mumbai's high-rise apartment building; leaves netizens stunned
Last Updated Sep 20, 2022, 8:37 PM IST