Corona warrior: Specially-abled tailor stitches masks, distributes them for free to help poor
Meet Jagdish, the specially-abled tailor, who is struggling to make ends meet, but is determined to stitch masks and distribute them free of cost to help those, who may not be able to afford one during corona crisis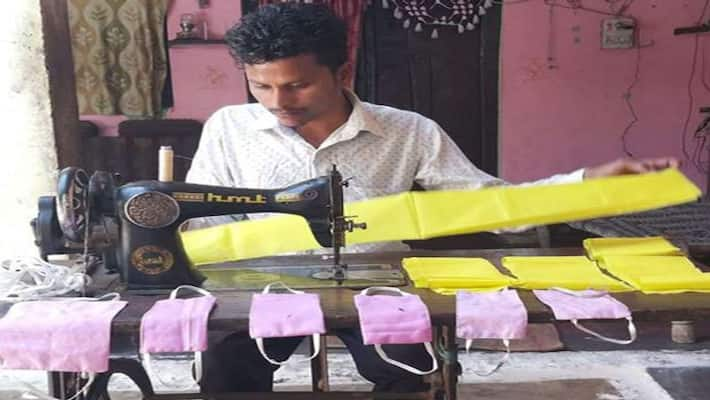 Bijnor: Coronavirus fears have gripped the nation as lockdown period seems to be nearing its end.The corona crisis seems to have ruined the lives of daily wagers, who have no jobs now. Some may belong to the economically weak section of the society, but are bending backwards to help the needy during these trying times. Here's the story of a specially-abled boy, who isn't earning much, but is raring to stitch masks, and distribute them free of cost. 
People have been instructed to wear face masks. In such a situation, Jagdish runs the shop Divyang Tailor, and is now busy sewing masks and distributing them for free. 
This tailor from Bijnor (Uttar Pradesh) is the only bread-winner for the family, but when the country is in crisis, he decided to help others in need. 
Jagdish hails from Salmabad village in Bijnor. Jagdish's customers dwindled as lockdown came into effect. After repeated appeals by the government to wear masks, he decided to help those, who can't afford them.
The village head Pawan Kumar told the media that a social organisation was approached to help Jagdish. Seeing his hard work and spirit, the organisation has provided him goods to make more masks. He has started stitching masks day and night, while keeping other clothes away. He has already distributed more than 150 masks for free.
Jagdish is specially-abled and has a family that is solely dependent on him. He has frequently visited government offices for his pension, but has received no help so far. He believes that good fortune lies in helping those in need.
Last Updated Apr 6, 2020, 7:54 PM IST