Asian Games 2023: From Waiter to Athlete; Inspiring journey of India's real-life Hero, Ram Baboo
Meet Ram Baboo, a 24-year-old Indian athlete whose unwavering determination and resilience during the COVID-19 lockdown turned him into a real-life hero.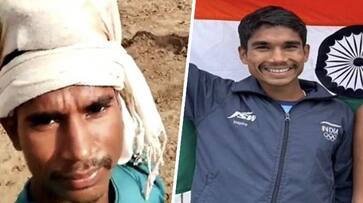 In a remarkable journey that shows the spirit of determination, 24-year-old Ram Baboo, an Indian athlete, has emerged as a real-life hero. His story is one of unwavering commitment, resilience, and an unrelenting pursuit of his dream, even in the face of adversity.
During the challenging times of the COVID-19 lockdown, when many found themselves struggling to make ends meet, Ram Baboo faced a similar predicament. He transitioned from being a waiter to taking up physically demanding work, including digging ditches, just to sustain himself. However, what sets him apart is that he never lost sight of his ultimate goal – becoming a professional athlete.
Ram Baboo's unwavering determination led him to continue training diligently, even when life threw him curveballs. He utilized the Mahatma Gandhi National Rural Employment Guarantee Act (MNREGA) to support his basic needs, all the while nurturing his passion for athletics.
His remarkable journey not only reflects his personal strength but also serves as an inspiration to countless individuals facing adversity. Ram Baboo's story reminds us that with unwavering determination and the courage to pursue one's dreams, even the most challenging circumstances can be overcome.
In a world where athletes often bask in the spotlight for their achievements, Ram Baboo's story shines as a beacon of hope and resilience, illustrating that true heroes are forged not just on the field but in the crucible of life's trials and tribulations. His journey is a testament to the human spirit's capacity to triumph against all odds.
Also Read: Asian Games 2023: Sunil Kumar advances to bronze medal playoff; Other Greco Roman Wrestlers exit
Last Updated Oct 4, 2023, 2:23 PM IST