Indian tennis star Yuki Bhambri quits singles, targets doubles Grand Slam success
Yuki Bhambri, once considered a top-50 prospect, is the first big Indian player after Sania Mirza to quit the singles format to prolong his tennis career.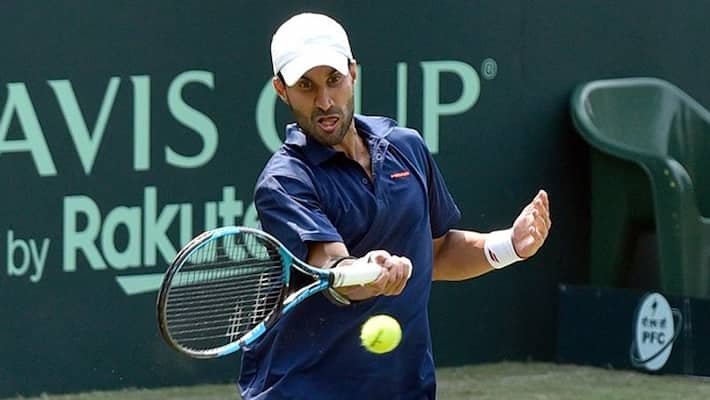 Yuki Bhambri, a tennis player from India, decided to stop competing in singles matches without using any emotive rhetoric balderdash. After Sania Mirza, the 28-year-old former top-50 prospect is the first prominent Indian player to give up singles play to extend his tennis career.
Yuki had chosen doubles because he was sick of having a singles career that was constantly on the back foot owing to knee issues. He didn't offer any justification for why the system wasn't doing more to assist him, nor did he express any regret over not reaching the heights he anticipated.
Walking out of the outside courts at the Balewadi stadium, his gait was assuring as he uttered, "no more singles for me". 
Also read: Adelaide International 2023: Novak Djokovic earns first win in Australia since deportation
"I did the best I knew in my singles career and I am at peace with it. Maybe things were wrong, maybe it was bad luck, I don't know. No regrets, there is nothing more I could have done," Yuki told PTI in an interaction. 
"It was more because of injuries and not for lack of sponsors. Sponsors were not there and I was fortunate to have done well throughout my career and could continue on the Tour but, of course, injuries were a big factor," he added.
Last weekend, he was competing in the singles qualifiers at the Tata Open Maharashtra, so was it a sudden decision to quit the format? 
Yuki claimed that since the doubles qualifying event does not give much, the goal of playing the singles qualifying tournament was to collect some prize money to enter the main draw. However, the choice to stop dating singles was made in the past.
"I (had) decided in 2019 that doubles is the way forward for me, and I wanted to do it while I was still able to play a bit of singles, which I did last year. I was injured. I came back in 2021, and I played the first 2-3 tournaments using Protected Ranking. Then I went to America and got COVID, and I got hurt again, so the plan was always there, but it got delayed," he explained. 
When Bhambri reached the pinnacle of his career and cracked the top 100 in 2018, he was aiming for a spot in the top 50 the following season. However, his knee injuries cost him vital three and a half years. The laborious hunt for a proven treatment then began.
He sought therapy from many doctors before receiving it in the US, and in March 2021, he returned to the courts. Quitting singles was a well-thought-out decision.
Also read: Yearend 2022: Carlos Alcaraz to Novak Djokovic - Ranking 5 standout men's tennis player of the year
"The goal at the end of the day is to become a singles Grand Slam champion. No one picks a tennis racquet to be a doubles Grand Slam champion. I did singles as long I could but it was a lot of start-stop, start-stop for me and I did not want to be at a later stage of my career where it's too late to play even doubles and start from scratch. Sitting out with an injury at 33 or 35 years, I would not have been able to come back if I had to play Futures because you want to play at the top level," he said.
Yuki partnered up with a large-serving fellow Indian, Saketh Myneni. They began the year with winning a couple of wins on the minor ITF circuit, and then in 2021, they combined to win five Challenger titles and reach one ATP Tour semifinal. They were able to prepare for greater difficulties like the ATP 500, the Masters, and Grand Slams. He is currently among the top 100 and plans to soon break into the top 50 groups.
Does the doubles' success give satisfaction or does a part of the mind still crave that elusive singles? 
"When you have made up your mind, the satisfaction is there. There is always going to be something better. If I was 50 in the world, I would have said, 'wish I was 20 in the world'. Federer is perhaps not satisfied with his 20 Grand Slams; probably he would have wanted to win 50," Yuki Bhambri stated.
There was a moment when he wasn't getting better and wasn't sure how he would return with such severe knee pain.
"That was a time when I though what I could do, if not tennis. I had accepted a long time ago that sponsors will not come, tennis is an individual game and you have to do it on your own," he added.
He was also upfront about the absence of financial assistance. There was a period when he only had one pair of shoes and didn't even have a formal shoe sponsor.
"I don't have any hope from the system. It's never been there. It is stupid to think about it. If it comes, 'thank you', grateful. I know it's not going to be there. I knew what I was getting into, it's a tough sport, and if you have results, everything takes care of it," he remarked.
Also read: Yearend 2022: Iga Swiatek to Katerina Siniakova - 5 standout women's tennis players of the year
Although the change has been made, Yuki is still working on adapting her playing style. He occasionally fails to remember that hitting is permitted in alleyways.
"It does not come as naturally as playing singles because you have done that all your life. I keep reminding myself 'you have to hit it in alley', it's not the singles court," he said.
And the training style too has changed. "I practice more volleys now. In singles, you will work from the baseline for two hours and now you work more on your volleys. All the time you are at the net and you have to be ready." 
So what is it that Yuki likes about the doubles? 
"It's very fast paced. Within a span of two minutes, the whole match can change. You've got (to) be (a) better player in crunch moments. Workload is different, it's not physically as taxing as playing the singles. It's explosive with serve and volleying, running back and forth but not as much running side to side that happens in singles. I don't have to run much (laughs), I know that the match is going to finish in one and a half hours maximum," he signed off.
(With inputs from PTI)
Last Updated Jan 4, 2023, 6:57 PM IST