We're in our rightful place, says Portugal's Ronaldo after sealing his 5th World Cup berth
Legendary striker Cristiano Ronaldo took to Instagram to celebrate as he helped Portugal advance to the World Cup for the fifth time in his career.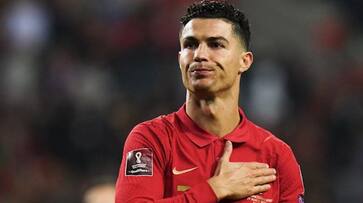 Legendary striker Cristiano Ronaldo clinched perhaps his last shot at World Cup glory after Portugal registered a comprehensive 2-0 win over North Macedonia on Tuesday, sparking massive jubilation among fans at Estadio do Dragao in Porto.
After ending North Macedonia's fairy-tale run, which included knocking out four-time champions Italy, the Manchester United star took to Instagram to celebrate his team's victory and make it to the fifth World Cup of his career.
The 37-year-old Portuguese has featured in every World Cup since 2006, and the greatest goalscorer of men's football will hope to attain glory when they go to Qatar for this winter's showpiece event.
"Goal achieved. We're at the Qatar World Cup," Ronaldo said on Instagram. "We're in our rightful place! Thank you to all the Portuguese people for the tireless support! Let's go Portugal!" the legendary striker wrote on Instagram following the crucial win.
Bruno Fernandes scored both goals for Portugal, with Ronaldo and Diogo Jota providing assists to lead their country to its sixth consecutive World Cup.
"Everyone has ambition, Cristiano and I are no exception," said Fernandes. "Usually, he scores, and I assist, but today it was the other way around."
"The most important thing is to help the team. If it can be with goals, with all the more pleasure. The fans were impeccable. The atmosphere was spectacular. The people realised what we needed," the midfielder added.
"The objective was achieved; that was the most important thing for us. Portugal had better performances, but this will stay in the memory because we made it to the World Cup," Fernandes concluded.
Ronaldo has played 17 World Cup matches in his career, having scored seven goals for his country at the world's top international tournament. Four of the seven goals, including a hat-trick against Spain, came in the 2018 Russia World Cup. Portugal has won six games, lost five and drawn six times at the showpiece event with their talisman in the team.
Portugal, like everyone else, will dream. "Dreaming is within everyone's reach," said 39-year-old Pepe. "We have a lot of quality. I feel very privileged to be part of this group."
Last Updated Mar 30, 2022, 10:58 AM IST