WATCH: Benzema reveals key reason behind Al-Ittihad move as ex-Real Madrid icon gets hero's welcome in Jeddah
Days after his departure from Real Madrid after 14 years, Karim Benzema was on Thursday night given a hero's welcome by screaming Al-Ittihad fans as the Frenchman was unveiled as the club's new signing.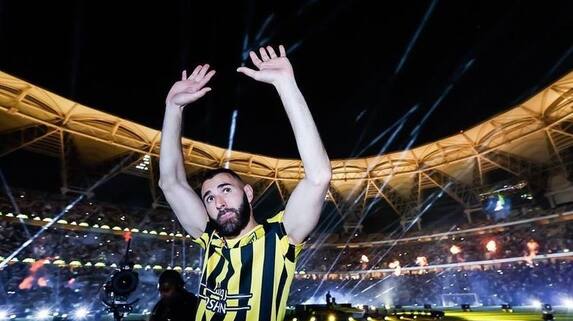 Ex-Real Madrid legend Karim Benzema received a hero's welcome on Thursday night by elated and screaming Al-Ittihad fans as the Frenchman was unveiled as the club's latest signing at Riyadh's  King Abdullah Sports City stadium. The 35-year-old striker donned the Saudi Pro League 2022-23 champion's jersey and held his 2022 Ballon d'Or trophy as spectators went wild for their new star in the team.
Following 14 trophy-laden years at Santiago Bernabeu, Karim Benzema left Real Madrid at the end of his contract and signed a three-year deal with the Saudi champions. The French icon is said to make about €200 million (£172 million/$213 million) each season in the Middle East. Next season, the striker will aim to lead the Jeddah team to a second straight Saudi Pro League championship.
In an interview with Al-Ittihad, Benzema revealed the key reason for choosing a move to the Saudi Arabian club. The ex-Real Madrid legend noted that his religion was a key factor in persuading him to move to Jeddah. "Well, because I'm Muslim and this is a Muslim country, and I have always wanted to live here," the Frenchman stated.
The former Madrid and Lyon great believes in the Saudi Pro League's potential and wants to work with his former teammate Cristiano Ronaldo, who recently joined Al-Nassr, to see it flourish.
"I'm so ready to show my talent in this new challenge, there are so many big names play here in this league - Cristiano Ronaldo and now me," he said. 
"So, it's very important to show that Saudi football can have a global impact, because it's not only about playing well here, I should bring the success I managed to achieve in Europe and play the same way I used to do with Real Madrid," Benzema added.
"[Ronaldo] is my friend and he is here. It's amazing to see him here in Saudi Arabia, also he represents the new era of football in this country and the progress that's happening here, which is important on the international level," the Al-Ittihad star noted.
Benzema will make the move to Saudi Arabia and complete his switch to Al-Ittihad on July 1.
Also read: Al-Ittihad's Benzema lauds 'friend' Ronaldo's presence in Saudi Arabia; hopes to replicate heroics in Europe
Last Updated Jun 9, 2023, 11:46 AM IST