'Thank You, Bale': Fans, clubs, stars and pundits laud Welsh legend after retirement from football
Wales legend Gareth Bale on Monday confirmed his retirement from football in an emotional post on social media, sparking massive reaction among fans of the former Tottenham and Real Madrid icon.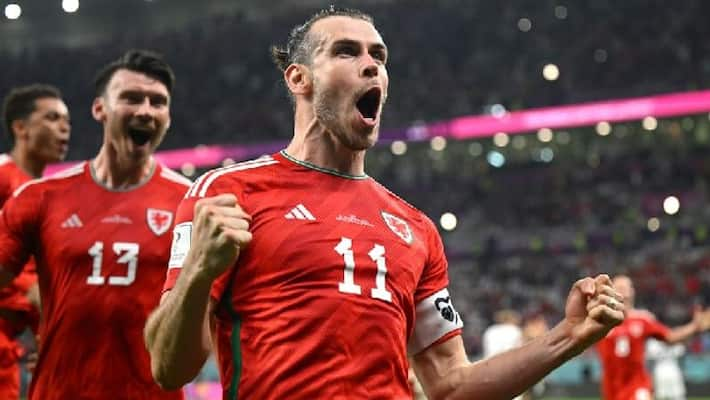 Gareth Bale, a footballing legend for Wales, announced his retirement from the sport in a heartfelt letter on social media on Monday, sparking a massive reaction among his fans. The former Real Madrid player has ended his brilliant career, which included victories in three La Ligas, five Champions Leagues, and three Club World Cups.
Also read: Gareth Bale retires: Welsh legend's net worth, career goals, trophies, milestones and iconic quotes
On Monday afternoon, the 33-year-old, who has played for Southampton, Tottenham Hotspur, Real Madrid, and Los Angeles FC, posted a heartfelt message on social media to say goodbye to the supporters.
Bale's retirement message
The former Tottenham Hotspur winger shared a message where he refused to rule out working with the Wales national team in the future, which read: "After careful and thoughtful consideration, I announce my immediate retirement from club and international football."
"From my very first touch at Southampton to my last with LAFC and everything in between, shaped a club career that I have an immense pride and gratitude for. Playing for and captaining my country 111 times has truly been a dream come true," the Welsh legend added.
Also read: Ronaldo's future at Portugal: Here's what new boss Roberto Martinez plans to do
"To show my gratitude to all of those that have played their part along this journey, feels like an impossibility. I feel indebted to many people for helping to change my life and shape my career in a way I couldnt have ever dreamed of when I first started out at 9 years old," Bale added.
"To my previous clubs, Southampton, Tottenham, Real Madrid and finally LAFC. All of my previous managers and coaches, back room staff, team mates, all the dedicated fans, my agents, my amazing friends and family, the impact you have had is immeasurable," he noted.
"My parents and my sister, without your dedication in those early days, without such a strong foundation, I wouldn't be writing this statement right now, so thank you for putting me on this path and for your unwavering support," Bale stated.
"My wife and my children, your love and support has carried me through. Right beside me for all the highs and lows, keeping me grounded along the way. You inspire me to be better, and to make you proud," the former Real Madrid icon said.
"So, I move on with anticipation to the next stage of my life. A time of change and transition, an opportunity for a new adventure," he concluded.
Bale's message to Wales fans
The footballing star posted a second message shortly after, addressed to Wales fans.
"To my Welsh family... My decision to retire from International football has been, by far the hardest of my career. How do I describe what being a part of this country and team means to me? How do I articulate the impact it has had on my life? How do I put in to words the way I felt, every single time I put on that Welsh shirt?" he stated.
Also read: Premier League fans go berserk as PSG's Qatari owners look to invest in English top-flight
"My answer is that I couldn't possibly do any of those things justice, simply with words. But I know that every person involved in Welsh football, feels the magic, and is impacted in such a powerful and unique way, so I know you feel what I feel, without using any words at all," Bale added.
"My journey on the international stage is one that has changed not only my life but who I am. The fortune of being Welsh and being selected to play for and captain Wales, has given me something incomparable to anything else I've experienced," he noted.
"I am honoured and humbled to have been able to play a part in the history of this incredible country, to have felt the support and passion of the red wall, and together have been to unexpected and amazing places," he said.
"I shared a dressing room with boys that became brothers, and back room staff that became family, I played for the most incredible managers, and felt the undying support and love from the most dedicated fans in the world. Thank you to every one of you for being on this journey with me. So for now I am stepping back, but not away from the team that lives in me and runs through my veins. After all, the dragon on my shirt is all I need," he concluded. 
A look back at Bale's prolific career
Bale will leave the game as the nation's leading scorer and the Welsh player with the most appearances. The 33-year-old began his professional career in England as a left-back at Southampton before earning a 5 million-pound transfer to Tottenham in 2007. 
Bale struggled to get off to a good start in north London, losing his first 24 games before exploding into prominence during his six years at White Hart Lane.
Bale's breakthrough came in a 4-3 loss to defending Champions League champions Inter Milan at the San Siro, where the young Welshman scored a hat-trick. He later rose to prominence as one of the top Premier League players and became just the third person in history to win both the PFA Player of the Year and Young Player of the Year awards in the same campaign.
His accomplishments in north London led to a record-breaking move to Real Madrid for a sum of 85.3 million pounds.
Bale produced 22 goals in all competitions in his first season with the team, helping Madrid win their first Champions League title in more than ten years.
The Welshman would go on to win four more championships, ranking among the greatest players of all time in terms of awards won.
Bale also scored a famous goal in the Copa Del Rey final during his first season at Real Madrid, sprinting the field's length to score with lightning speed.
Also read: Zidane vs FFF's Noel Le Graet: Real Madrid fans applaud club for standing up against 'disrespect' to legend
Years later, in the 2018 Champions League final, he had his greatest performance while wearing a Madrid jersey. He scored twice on the day, one an incredible bicycle kick, to give his team the victory.
Despite his heroics on the field for the Los Blancos, his efforts at the Santiago Bernabeu received mixed reviews, which led to his loaning out in 2020. 
Eight years after leaving the team, Bale made a remarkable comeback for Tottenham Hotspur, scoring 16 goals in 34 games.
Despite this, it wasn't sufficient to revive his career in Spain, and the forward just finalised a transfer to MLS team Los Angeles FC.
In the 128th minute of the MLS Cup, he scored a header to equal the score and force penalties. LAFC eventually prevailed in the game and won their first MLS Cup.
Also read: 'Lion in Chelsea logo leaves club': Memes carpet bomb Blues after Man City hammer Potter's men out of FA Cup
Fans thank Bale for the memories, and await to see what his next career move would be:
Last Updated Jan 9, 2023, 10:56 PM IST