Lampard out, Rooney in? Man United legend shortlisted to take over as Everton's new manager
Manchester United legend and DC United manager Wayne Rooney could reportedly get a second shot at Everton's top role should the Toffees sack Frank Lampard.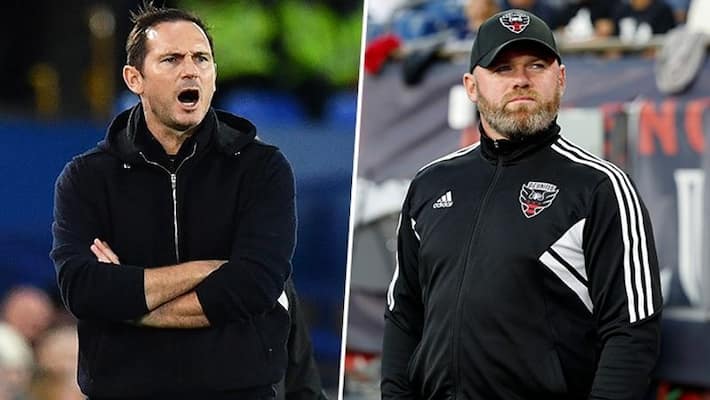 Everton manager Frank Lampard is perhaps counting his days with the club as pressure mounts on the former Chelsea legend to deliver following a massive 1-4 defeat to Brighton in their last Premier League match. If the Toffees fire Lampard, reports suggest former Manchester United legend Wayne Rooney might get another chance to coach Everton.
Rooney, who also played for Everton in his professional career, admitted in January 2022 that he declined Rafael Benitez's offer to succeed him while managing Derby County.
Also read: 'Ronaldo not an activist': Fans slam Amnesty for urging Al-Nassr star to highlight Saudi's human rights issues
In light of their recent dismal form, the Sun has revealed that Rooney is on owner Farhad Moshiri's wishlist should they fire D.C. United manager's former England teammate Lampard.
With only 15 points from their first 18 Premier League games of the season, the Toffees are in danger of dropping to the bottom division.
As was previously mentioned, Lampard will oversee their FA Cup match against Manchester United on Friday, giving him a reprieve even though his long-term future is still uncertain.
If Moshiri decides to sack Lampard, other names on his list of prospects reportedly include Sean Dyche and former Everton manager Roberto Martinez.
Dyche has been jobless since Burnley fired him in April, whilst Martinez, who recently departed his position in Belgium, worked at Goodison Park from June 2013 to May 2016.
Rooney is the unexpected name on the shortlist, especially considering that he rejected his former team last year.
Also read: World Cup done, Champions League next: Lionel Messi gears up to win big for PSG
In a press conference while he was at Derby, Rooney admitted, "They approached my agent and asked me to interview for the job, which I turned down. I believe I will be a Premier League manager, and I'm ready for that, and if that's with Everton in future, that would be great. It was a very difficult decision, but I've got a job here at Derby, which is important to me."
After Derby spent the entire 2021–22 season in administration, Rooney resigned as club manager in June. He then accepted a managerial position with D.C. United, where he had previously played briefly.
Last Updated Jan 5, 2023, 4:40 PM IST