Premier League 2023/24: Guardiola reveals why Manchester City opted out of Declan Rice pursuit
Pep Guardiola sheds light on Manchester City's decision not to pursue Declan Rice, citing financial constraints.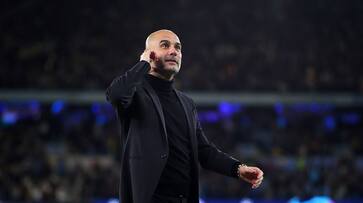 Pep Guardiola explained that Manchester City refrained from pursuing the £105 million-rated Declan Rice last summer, emphasising that the decision was based on financial considerations. The Premier League champions had entered the race to secure Rice's services from West Ham United, and they made a £90 million offer after Arsenal's initial bids were rejected.
Guardiola, speaking ahead of City's Premier League clash with Arsenal, acknowledged their interest in Rice, stating, "Everyone knows we wanted him. We could have utilized him when Rodri was unavailable due to suspension." Rodri, City's influential Spanish midfielder, was serving the final game of his three-match suspension during the match against Arsenal.
Rice had previously explained that it was Mikel Arteta's vision at Arsenal that convinced him to join the North London club. Guardiola, on the other hand, was less specific about the reasons behind City's decision but asserted that they were unable to match the £105 million fee, especially after paying £77.6 million to acquire Josko Gvardiol from RB Leipzig.
"In the end, Arsenal made a stronger push, wanted him, or perhaps Mikel was more persuasive than me, or maybe it was the club itself," Guardiola remarked. "The offer they accepted was beyond our reach because we had Josko Gvardiol in mind for that position, and we couldn't afford to spend that much. That's the reason."
Guardiola also addressed the perception of City's big spending, stating, "Usually, when City spends this amount of money, it's considered extravagant. When others do it, they are praised for their smartness. That's how it goes. However, I don't judge what others do."
He continued, "We are constantly under scrutiny, but that's okay. If we were in the middle of the table, it wouldn't be an issue, and we wouldn't face such scrutiny."
Earlier in the season, Guardiola had commented that the media would criticize him if City engaged in a spending spree similar to Chelsea's. Chelsea faced accusations of over 100 alleged financial rule breaches by the Premier League in February, with an ongoing investigation.
Guardiola concluded, "Arsenal believed it was necessary to make the move for Rice, and that's perfectly fine. They have lost key players, but their recruitment has been impressive, and they have assembled a young squad for the long term. Declan Rice is an outstanding defensive midfielder, both for his national team and in general. He's an exceptional player."
Also Read: MLS 2023-24: Lionel Messi and Inter Miami's playoff dreams fizzle out
Last Updated Oct 8, 2023, 8:53 PM IST