Man United boss Erik ten Hag refuses to comment on Mason Greenwood's future
Charges of attempted rape and assault against Manchester United footballer Mason Greenwood were dropped on Thursday, leaving fans divided over whether the Englishman should be given a second chance.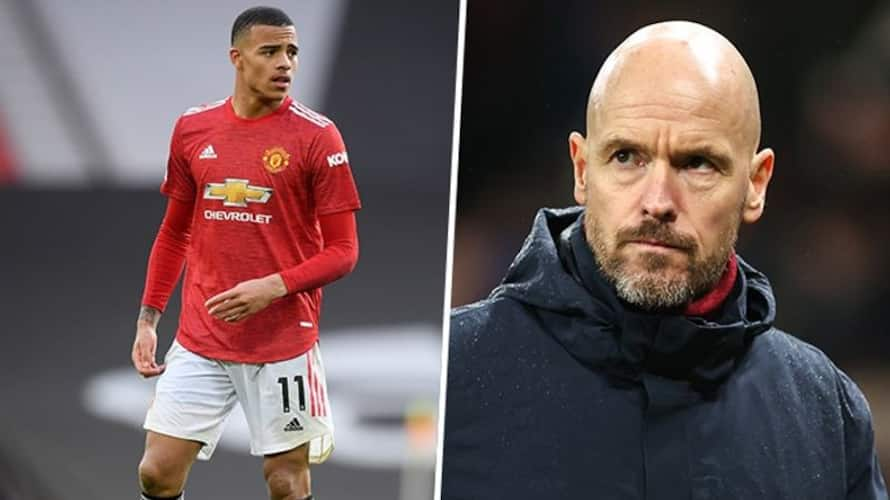 Manchester United boss Erik ten Hag has refrained from commenting on the discussion surrounding Mason Greenwood's future at Old Trafford, even as fans of the club remain divided over whether the forward should be given a second chance.
Following Thursday's dismissal of the allegations of attempted rape, coercion, and assault causing actual bodily harm, Greenwood is now technically eligible to play for United once more. However, United is carefully deciding whether to reintegrate the Englishman, who has two and a half years left on his 75,000 pounds per week contract or to rip it up and pay him off effectively.
Also read: Should Mason Greenwood play for Manchester United again? Fans remain divided
Ahead of United's Premier League clash against Crystal Palace, Ten Hag said, "I can't add nothing. I refer to the statement of the club."
Asked if he had spoken to Greenwood and whether he will be part of the investigation United are now in the process of conducting, the Dutchman added, "As I said, in this moment, I can't give a comment about the process."
The Dutchman was then questioned about if he had ever spoken to Greenwood, given that the player had been suspended by the team months before Ten Hag even took over as manager.
"I can't say anything about it. I refer to the statement of the club and at this moment, I can't add anything," he reiterated.
Ten Hag was questioned about if Thursday's development will have any bearing on the team's preparations for tomorrow's match against Crystal Palace at Old Trafford.
Also read: Meme fest explodes after Man United's Mason Greenwood cleared of all attempted rape and assault charges
"We have always to focus on the game, no matter what, it is our job. That is why we are here. We have a lot to do against Palace. Two weeks ago, we had a bad performance at Palace. I wasn't happy with our performance from us. It was 90 per cent focus and energy and we dropped two points. We have to avoid that tomorrow," Ten Hag stated.
"We need a better game tomorrow, a better focus in the game, but especially better conduct in the way of play because we have to beat them because that's quite clear," the United boss added.
In a statement released after charges against Greenwood were dropped, the club said, "Manchester United notes the decision of the Crown Prosecution Service that all charges against Mason Greenwood have been dropped. The club will now conduct its own process before determining next steps. We will not make any further comment until that process is complete."
Greenwood himself stated, "I am relieved that this matter is now over and I would like to thank my family, loved ones and friends for their support. There will be no further comment at this time."
The forward hasn't featured under Ten Hag; his most recent outing came in January of last year against West Ham, when Ralf Rangnick served as temporary manager. However, Greenwood's profile and biography are still available on the official United website, and he was listed as one of the team's under-21 players when the Premier League season began.
The charges against him are not mentioned in his biography on the team website, which also notes that he recently signed a new deal through 2025 and reached 100 club appearances.
Also read: United to conduct own investigation on Greenwood after dropped charges; Neville explains 'clumsy' tweet like
There is nothing legally preventing United from reintegrating Greenwood into the team, given that he no longer faces charges or the possibility of a trial under the terms of his 70,000 pounds a week contract through 2025 with the option of an additional year.
Fitness would be a problem for a man who scored 35 goals in 129 matches but hasn't played in more than a year, should they decide he does have a future at the club.
Last Updated Feb 3, 2023, 7:28 PM IST