Australian Open 2023: 'Tennis is a swift and dynamic sport' - Djokovic after racing into quarterfinal
Australian Open 2023: Novak Djokovic put on a solid performance to outplay Alex de Minaur in straight sets as he raced into the quarterfinal, where he will take on Andrey Rublev. Meanwhile, he feels that tennis is a "dynamic sport".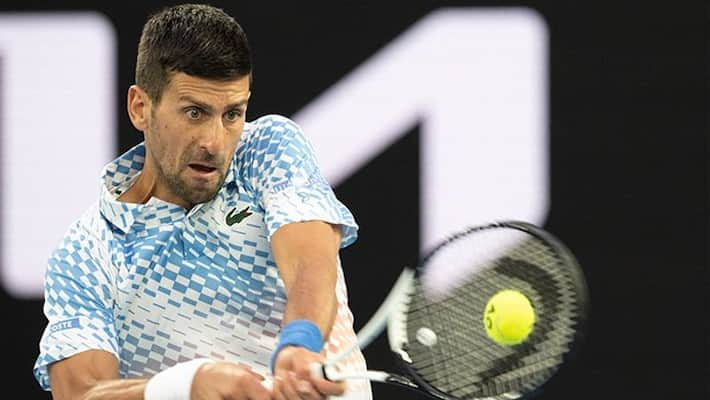 Record nine-time former Australian Open (AO) champion Novak Djokovic was involved in a ruthless performance during the pre-quarters of the event against local favourite Alex de Minaur in Melbourne on Monday. It turned out to be an incredible show from the 21-time Grand Slam champion, who raced past in straight sets (6-2, 6-1, 6-2) to seal his place in the quarterfinal, where he would be taking on Andrey Rublev of Russia on Wednesday. Although the Serbian is not 100% fit, nursing a hamstring niggle, despite showing some discomfort in the previous matches this season, he looked flawless on Monday. He affirmed that it was why he wanted a quick finish and termed the sport a "dynamic" one.
"I wanted to win in straight sets. You don't know what is going to happen on the court. I thought the first four or five games were close. After breaking serve in the first set, I started feeling freer and loose to hit through the ball and be more aggressive," said Djokovic after the success.
ALSO READ: Australian Open 2023 - Tsitsipas cherishes 'great night' after holding off Sinner charge to reach QF
"I thought he was a bit more nervous towards the end of the second [set] and the beginning of the third set. That was my opportunity to capitalise on those chances. Tennis is a swift and dynamic sport. Things can change in a matter of moments, a matter of points. But, I kept my focus all the way through and played the best match of the year so far," Djokovic concluded.
Rublev trounced Holger Rune of Denmark in a five-set thriller to move into the quarters, during which he also saved a couple of match points. Djokovic would not only aim for his record-extending tenth title in Melbourne but is also eyeing to regain the top spot in the ATP Singles Rankings.
Last Updated Jan 23, 2023, 5:15 PM IST