Asian Games 2023: 18-year-old Esha Singh bags silver in 25m pistol event; 11th medal in shooting for India
18-year-old Esha Singh produced some excellent shooting to claim the silver medal in the individual 25m pistol event at the Asian Games 2023 in Hangzhou, China on Wednesday.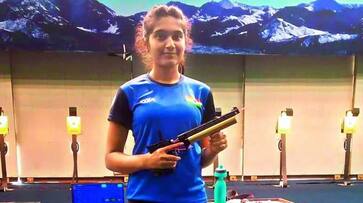 In a remarkable display of skill and composure, 18-year-old Indian shooter Esha Singh secured a silver medal in the women's individual 25m pistol event at the Asian Games 2023 in Hangzhou, China, on Wednesday. Esha's exceptional performance was a shining moment for India in the competition, even as another Indian shooter, Manu Bhaker, narrowly missed out on a podium finish. With this feat, India's total medal tally in shooting stands at 11 as of now and overall tally stands at 21, which includes 5 gold, 6 silver and 10 bronze.
Earlier today, Sift Kaur Samra bagged a gold medal for India in the individual 50m rifle 3 position event while Ashi Chouksey settled for the bronze.
Esha Singh displayed remarkable marksmanship as she shot her way to a score of 34, earning her the second position in the event. It was a momentous achievement for Esha, but the gold medal went to China's Rui Liu, who set a new games record with an impressive score of 38. Meanwhile, Jiin Yang from another Chinese team secured the bronze medal with a score of 29.
China's Rui Liu's gold medal performance was nothing short of exceptional. She not only clinched the top spot but also broke the previous record held by India's Rahi Sarnobat, whose score was 34.
Manu Bhaker, the Youth Olympics champion, had a strong start by topping the qualification round with an impressive score of 590. However, in the highly competitive final featuring eight women, Manu finished in fifth place, scoring 21 points. Despite her strong qualification performance, Manu missed out on a podium finish in the final showdown.
In the gold medal match, Esha Singh faced tough competition. She missed three out of her five shots, while her Chinese opponent had only one miss. This precision shooting ultimately secured the gold medal for China.
The final match witnessed an unusual and extended delay due to a missing shot from a Korean shooter. The judges had to meticulously inspect both the target and the backup target to determine whether the shot was genuinely missed or if it had failed to register. This unexpected delay added a unique twist to the competition's proceedings.
Last Updated Sep 27, 2023, 1:10 PM IST